How To Find And Remove Duplicate Audio Files
There are plenty of audio tools out there which let you remove duplicate music or audio files. But these tools compare audio files by their name, tag, artist, etc which is not an accurate method. What if you have two similar audio files under completely different names? This is where Audio Comparer comes in. It actually listens to your music or audio files and compare them based on the audio content. This process is obviously a little slow, but the results are very accurate.
A comparison wizard will start when you run this tool for the first time, but make sure that you read the Introduction to get more details on how it works. Once you have read the introduction, click Next.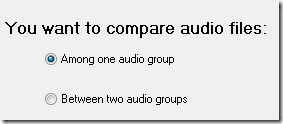 Select 'Among one Audio group', and click Next. in the next step, enter any name of your group and add the folders that contain your music or audio files(see screenshot below).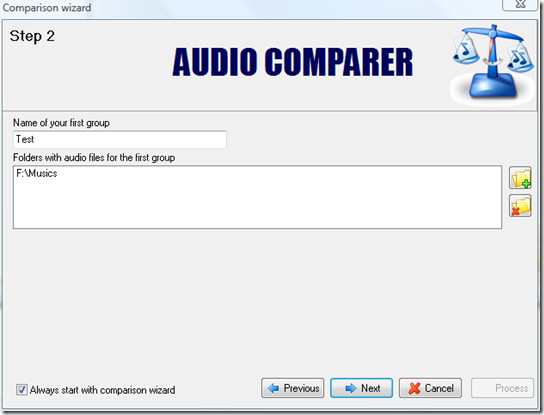 Once done, click Next and it will ask whether to find similar audio files or exact duplicate. Select the former as shown in the screenshot below and click Next.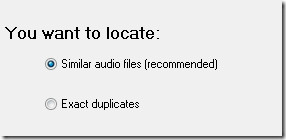 In the final step name your result file and click Process.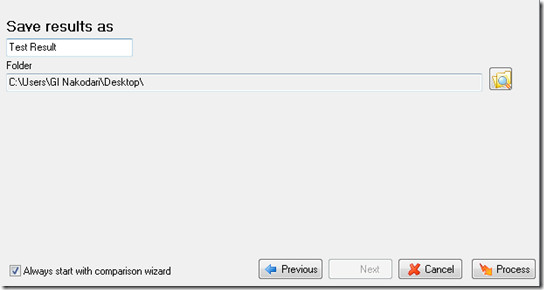 It will begin listening to your audio files, which is going to take some time.

Once the process is complete, you will find all your files listed in the left sidebar and the files that this tool finds to be duplicate(based on the percentage of their audio similarity) on the main window.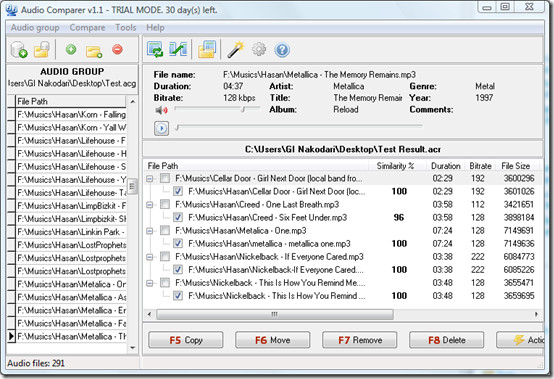 Click the image above to enlarge.
Select the duplicate files and press F7(or click Remove button) to delete them. Make sure that you expand the music files by clicking '+' before the file path and select only the file that you want to remove as shown in the screenshot above.
Note: This tool is shareware, which means it's not free. It comes with 30 day trail which I believe is enough for people like me. I ran the full scan of my music and audio files and when the duplicate files were removed, I simply uninstalled the software since it won't be needed anymore.
Enjoy!