How To Find Information Of Any Video/Audio File In Complete Details
MediaInfo is a free tool that gives you complete information of multimedia files. All you have to do is select the file and it will display the full details. You can also select a folder and it will read all multimedia files inside that folder, choose the file from the list to get complete details of that file. You can view the information in different methods, such as: text, sheet, tree, HTML, and Basic viewing.
But you might be pondering what information exactly can you get from this tool? The information can be broken into the following categories:
General: title, author, director, album, track number, date, duration…
Video: codec, aspect, fps, bitrate…
Audio: codec, sample rate, channels, language, bitrate…
Text: language of subtitle
Chapters: number of chapters, list of chapters
Here is an example of an audio file in 'Sheet view' mode.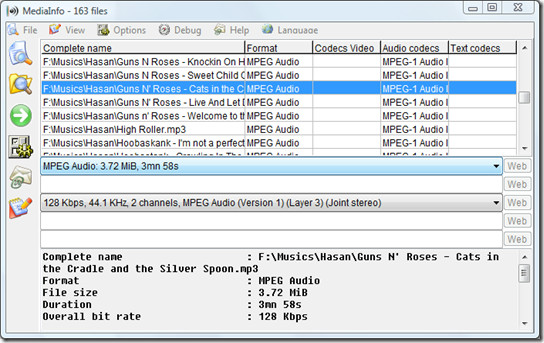 And here is an example of video file in 'Basic view' mode.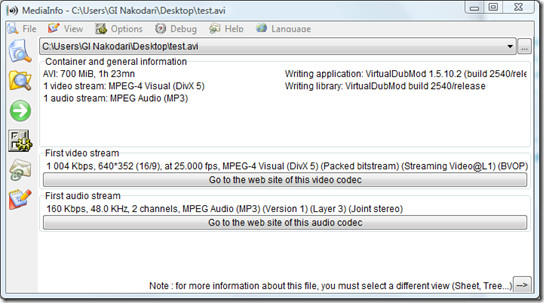 It shows the Video/Audio codec used and also links to their website. To get more details on a codec, you can visit their website with a single click. If the video contains subtitles, it will tell you it's language automatically. The complete list of formats that this tool support are as follows:
Video: MKV, OGM, AVI, DivX, WMV, QuickTime, Real, MPEG-1, MPEG-2, MPEG-4, DVD (VOB)…
(Codecs: DivX, XviD, MSMPEG4, ASP, H.264, AVC…)
Audio: OGG, MP3, WAV, RA, AC3, DTS, AAC, M4A, AU, AIFF…
Subtitles: SRT, SSA, ASS, SAMI…
You can export the information to a simple text, csv, or html file. Enjoy!