How To Fix 'Cannot Delete Folder/File', 'Access Is Denied' or 'File In Use' errors in Windows Using Unlocker
Have you ever tried to delete a file or a folder and gotten 'Access Is Denied' error? Or while copying a file it seen 'The Source File May Be In Use' error. These types of errors can occur due to many different reasons,  maybe the file is being used by the operating system or some other program, or maybe you do not have administrator privileges.

If you get an "Access is Denied" error while accessing a folder then it means the administrator has not allowed you permission to access it. If you are not an Administrator then you will probably never be able to fix this error. But if you are an Administrator and receiving this problem then there is a software called Unlocker that is going to come in handy.
UPDATE: Lock Hunter seems to be working better in Windows 7(both 32-bit and 64-bit)
Unlocker is a small, free, and powerful software that lets you see which process is holding the lock on the file/folder and then helps you unlock it. After Installing this software you can simply right click the file/folder that is giving "Access is Denied" or "FIle May Be In Use" errors and then click on Unlocker.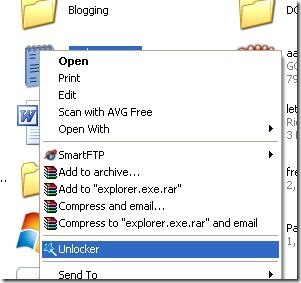 A new window will now pop-up showing the processes as shown below. Now you can either unlock all of the processes or kill the process.

On the left of the 'Kill Process' button there is a dropdown menu where you can select Copy, Move, Rename, or Delete functions for a locked file.
This program is useful for the following types of errors,
Cannot delete file: Access is denied
There has been a sharing violation.
The source or destination file may be in use.
The file is in use by another program or user.
Make sure the disk is not full or write-protected and that the file is not currently in use.
Using Microsoft Support
There is also an alternative way using Microsoft support help for such errors, following MS steps will basically reset the file/folder settings.
https://support.microsoft.com/kb/810881
I frequently use the Unlocker software for quick solution, and I have personally never tried using the Microsoft support method. I hope you will also get rid if these errors using the above procedure, looking forward to hear feedbacks from you. 🙂