How To Hide The App List From The Start Menu In Windows 10
Microsoft has been playing with the Start menu and the start button in Windows since Windows 8. With Windows 10, it came to a reasonable compromise between the Windows 7 and Windows 8 UI. The Windows 10 Start Menu was popular with users until the Anniversary Update. The Anniversary Update revamped it so that an omnipresent list of all apps installed on your system appears in the Start Menu. Users did not like this change and have been looking for a way to remove it. They've also been providing feedback to Microsoft to the same effect. The Windows 10 Insider Build 14942 finally has a way to hide the apps list.
Here's what the Start Menu looks like now in the stable Windows 10 version build 1607.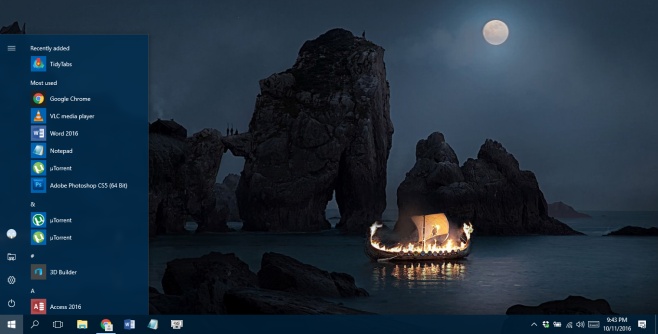 On the Windows Insider build 14942, open the Settings app and go to the Personalization group of settings. Go to the Start tab and you will see a 'Hide app list in Start Menu' option. Enable it and the apps' list will be hidden from the Start Menu.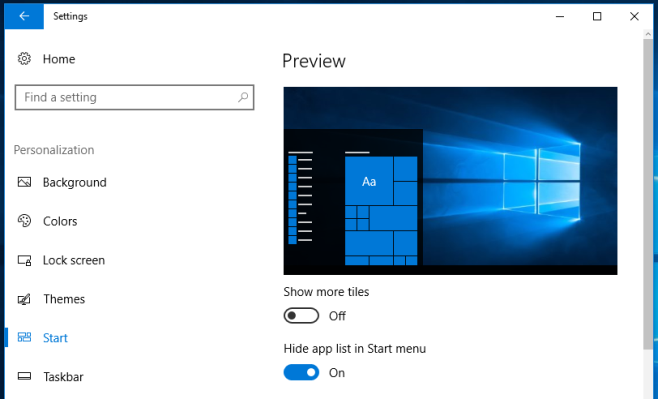 This is what the Start Menu will look like with the apps' list hidden. We removed all tiles from it but couldn't reduce its width any further.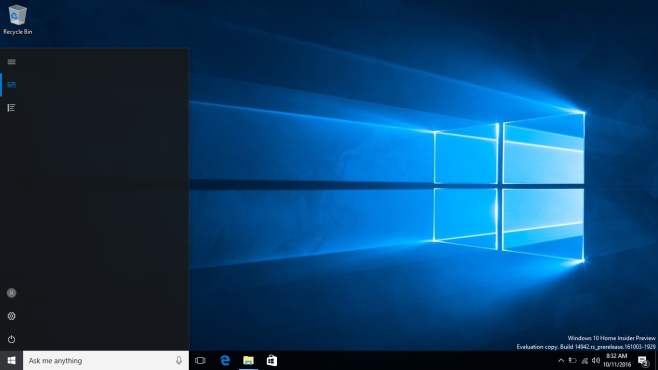 The new Start Menu has two viewing modes that you can switch between. Two button at the top of the left bar let you switch between these viewing modes. The little hamburger button expands the left bar. The button directly underneath it is the default view that shows the pinned tiles. The third and last button lets you see a list of all installed app.
The Start Menu will always open in the pinned tiles view. Switching to the All Apps view will not change the default view for the Start menu. When you close and open it again, it will return to the pinned tiles view.
We wish the Start Menu's width could be reduced further. Considering this is a preview build, future builds might allow users to do just that. For everyone who has been sending Microsoft feedback, here's one reason to celebrate. Now we just have to wait for the feature to roll out to the stable version.