How To Play And Convert AMR Audio Files
When you record an audio the file is saved in AMR format. But what if you want to convert AMR into MP3 or WAV file format or vice versa? AMR Player is a free simple tool that lets you play and convert AMR files instantly, it supports both AMR-NB and AMR-WB audio formats. It supports conversion of AMR into MP3/WAV and vice versa.
It has a very simple interface and is totally free. All you have to do is click Add File and then choose which format you want to convert into. Or you can just add all the files and listen to them turn by turn.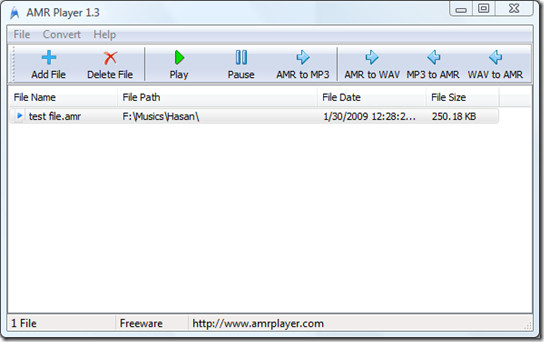 If you want to convert AMR into MP3, select the file and click 'AMR to MP3' button, give the new file a name and that's it. But when you are converting an MP3 file into AMR, then click MP3 to AMR button and select the mp3 song and give it a new name, it will convert automatically and get added in the list. It's that easy. Enjoy!