Integrate Hulu Desktop In Windows 7 Media Center
Lets be straight here, Windows 7 Media Center is an excellent tool to watch videos, news, shows, and more. The same goes with Hulu Desktop that brings thousands of shows at your fingertip. But what is lacking here is the integration of both apps.
Note that we are not talking about integrating Hulu in Windows Media Center, rather we are talking about integrating the 'Hulu Desktop' in Media Center.
Hulu Desktop Integration does what Hulu and Microsoft failed to do together, it adds Hulu Desktop inside Windows Media Center so that users can switch between both apps with a click of a button.
Now you can sit back and relax, when you need switch from Windows Media Center to Hulu Desktop, just select Hulu Desktop from the remote control. Doing this will will close the Media Center and open up Hulu Desktop in fullsceen mode. When you close Hulu Desktop by clicking Exit in the main menu, it will start up Windows Media Center back again.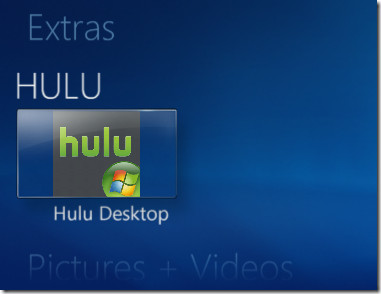 Switching between the two apps has now become a piece-of-cake. Technically, it saves a lot of headache for those users who need to switch between these apps frequently.  Before installing it, make sure that both Media Center and Hulu Desktop are closed.
Download Hulu Desktop Integration
We have only tested this under Windows 7, we are not sure if it works with Windows Vista Media Center as well. Enjoy!