iroha Note Creates Linked Notes On Desktop For Better Organization
iroha Note is an impressive Adobe Air application for taking, managing, organizing notes in an intuitive fashion. It's a note-management centric solution for users who are looking for an easy way to link chunks of information with each other. The organization of notes is carried out through user's input and linkages can be defined on the fly while taking or managing notes. It dispatches notes in to a hierarchy to bring convenience in navigating through different types of information. Adding more, the user interface is more like a broad canvas where you can highlight each note window, create links between them, classify group of notes, place them in order, and do much more.
The idea behind this app is to bring a mind mapping mechanism for holding different sorts of information. As generally we map each piece of information in our mind with some other information, it aims to provide the very same way for taking notes and holding diverse information. The snappy canvas is easy to go around with. A small navigator is placed on the left sidebar while all notes' windows are present in the main window.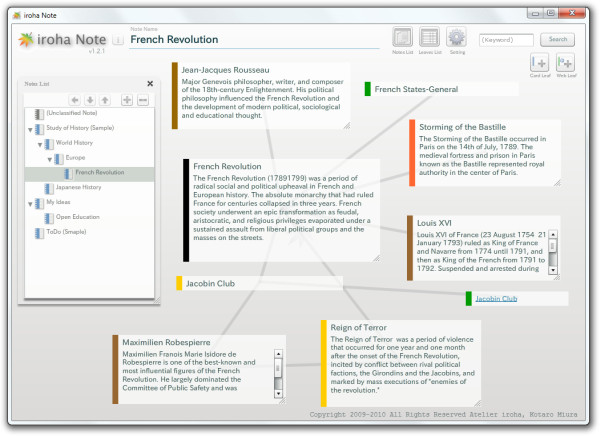 It comes with pre-defined hotkey (Ctrl + N) for creating a new note. A simple note window is referred to as Card leaf and Web leaf refers to note carrying web links. On hovering over a leaf, it will show 4 options; change note color, create link, copy and edit.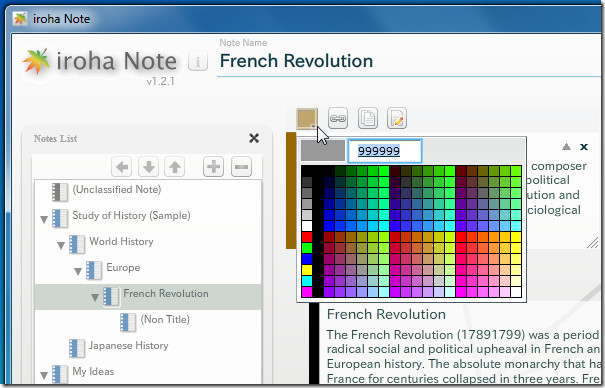 For creating a link, select the option and drag the link over a note which is to be linked with one in question.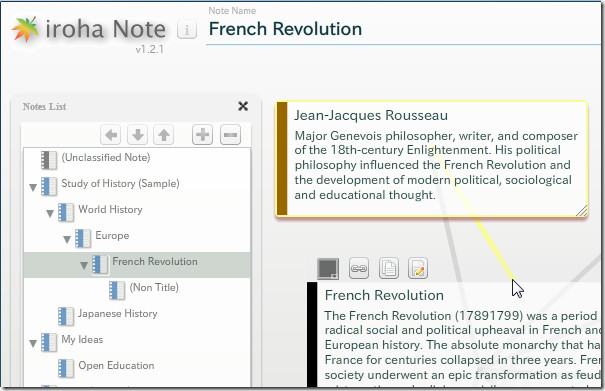 All notes can be adjusted in a user-defined hierarchy in navigation bar. You can easily move the notes up/down, create a child note, make an existing note as parent note, etc. It is further possible to list down all the leafs included in a note by clicking Leaves List button present at the top. Alongside, you will find a search bar to search through the notes.
It can make backups in db format, recover data file, and change default font family, all these options are available in Settings window.
Overall, iroha Note is a perfect note-taking application offering plentiful of features and a great user interface. It runs on Mac, Linux, and Windows platforms, provided you have Adobe Air installed. Testing was done on Windows 7 x86 system.