iTunes Hotkeys: Global Shortcuts For Play/Pause, Next & Previous Track
iTunes is, hands down, one of the most popular media players around. Its elegant and intuitive interface, and iOS integration has lead it to be used by millions of people. Even though, the application is awesome in every way, it still lacks on of the most important feature – support for global hotkeys. One has to use third-party apps to implement hotkey support for volume adjust, playback, playlist navigation and use other supported features. A couple of days ago, we covered iTunesInfo, an iTunes controller that allows you to configure global hotkeys to perform different actions, such as Play, Pause, Stop, Adjust Volume, Shuffle Playlist etc. It is no doubt, quite a big program with lots of options to adjust hotkeys and view song information in notification window. However, if you are looking for a simple software that enables you to change the track and play/pause music without confusing you with a lot of options, and is also very light weight, then try iTunes Hotkeys. This open source application for Windows interacts with iTunes and allows you to set custom hotkeys to switch to the next or previous song in the playlist and play/pause the currently playing track. More on iTunes Hotkeys after the break.
The application is very minimalistic and simple. It won't bewilder you with umpteen of options. Adjusting the hotkeys is pretty simple, simply run the iTunes Hotkeys executable file to open the hotkeys selection window. There are 4 tabs, namely Play/Pause, Next Song, Previous Song and Submit Hotkeys. The application allows you to choose Win, Ctrl, Alt or Shift in combination with Function Keys, Numpad keys, Alphabetic keys or Symbol keys as the modifier keys. Once hotkeys for all three functions are selected, head over to the Submit Hotkeys tab and click Submit.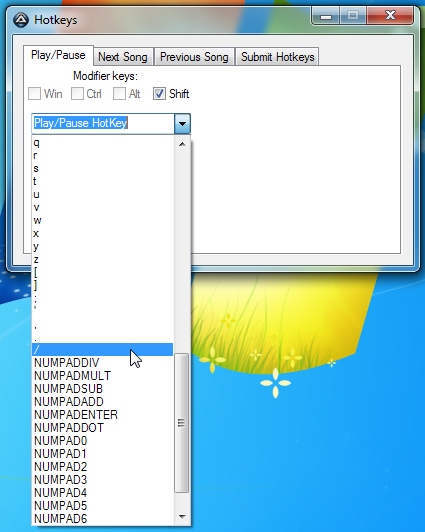 Apart from assigning and setting up hotkeys from within the application, you can also edit the hotkeys by opening the iTunesHotkeys.ini file found in the source folder and edit the corresponding hotkeys of PnP (Play and Pause), Next (Next Track) and Previous (Previous Track).

iTunes Hotkeys is a very handy application that fills the void that iTunes lack. It is a portable application and works on both 32-bit and 64-bit versions of Windows XP, Windows Vista, Windows 7 and Windows 8.