Launch, Backup & Uninstall Modern UI Apps From Windows 8 Desktop
Those of you who have already joined the Windows 8 club should be aware that the Start Screen is the only place from where the OS lets you manage Modern UI apps. The Start Screen allows users to pin legacy apps to the Taskbar, unpin any app from Start Screen, uninstall them or change the sizes of their tiles. However, all that doesn't seem very convenient, particularly if you've also pinned additional items here, such as files, folders or desktop apps. That's where Windows App Boss comes to the rescue. This freeware allows users to manage Windows 8 applications right from the desktop. It can also help developers and testers easily add signed packages for testing purposes. Keep reading past the break for further details.
Sporting a simple and user-friendly interface, the tool allows you to easily manage Metro apps without actually entering the Metro environment. Upon launch, it displays a list of all Modern apps installed on your Windows 8 PC, along with related information, such as version, publisher number and family.
To remove an app, simply select it from the list and click the Uninstall button at the top-right. You can also allows launch Modern apps right from within Windows App Boss's interface. New packages can be added to the list by clicking the Install button and configuring a few required settings.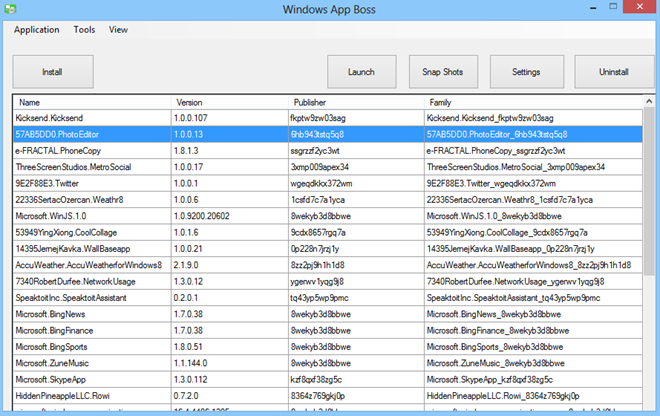 If you're keen on developing and publishing your own Modern UI apps, you'll of course need to obtain a developer's license from Microsoft. Thankfully, Windows App Boss provides a quick way to do this too; simple navigate to  Tools > Developer's License and click the 'Acquire & Renew' button.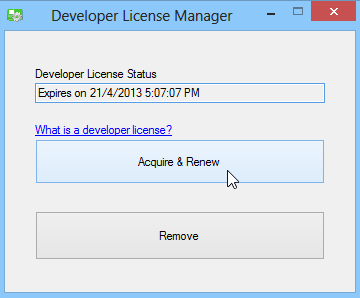 When you uninstall an existing app, the tool pops up a separate window, letting you know if the package was successfully removed or encountered some error.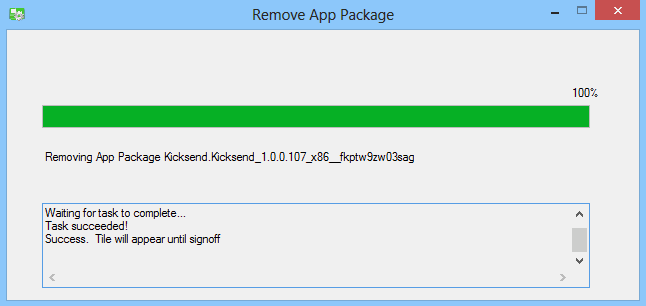 In addition to adding new packages, uninstalling existing ones or acquiring a developer's license, Windows App Boss has another great feature in its arsenal called Snapshot. This feature allows easy creation of backups for an app of your choice, which in turn lets you safely revert any changes made to the app, rolling it back to a previous working state. This feature can prove to be particularly useful for the alpha testing of apps by their developers.
The procedure of creating a snapshot is fairly simple. After selecting the app from the main window and clicking the 'Snap Shots' button, hit 'Create' in the proceeding window. You can create as many snapshots as you like. Furthermore, you can open the location of the snapshot by clicking the Browse button. To move to a previous app state, select the restore point from the list and hit Apply.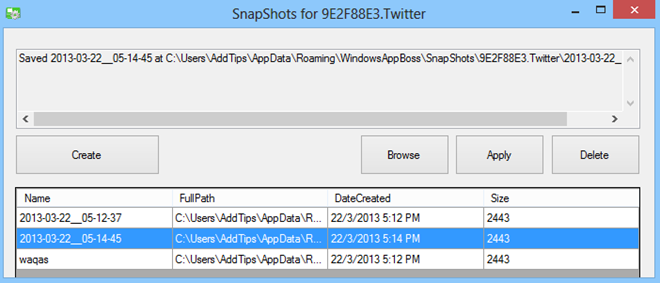 Windows App Boss is a portable application and is still in beta. Testing of the app was carried out on Windows 8 Pro.