Little Piano: Virtual Keyboard With 174+ Instruments & Drum Patterns
I believe we, at Addictive Tips, are guilty of not covering enough fun applications for the Windows platform. Mostly, the applications that we review are useful tools, which either perform a new function, or simplify a current process. However, there's a lot of truth to the saying "all work and no play makes jack a dull boy," especially when working on computers. Games are a very nice way to release the stress caused by constantly working, but if games are not your cup of tea, you can try another activity which is very relaxing, i.e., creating music. Don't have a musical instrument lying around? Here is a little application that will surely fill the gap. Little Piano is a simple virtual keyboard that provides you with a virtual piano, allowing you to exercise your creativity. More on Little Piano after the break.
The application is a lot fun, to be honest (I played with it for a good 30 minutes before realizing I had to write its review!). It provides you with over 127 instrument sounds and 10 channels for recording your creations. To back your melodies, you can either use the stock drum patterns, or make your own. There are two sets of keys, and each key has a range of five octaves to go lower and higher on the notes. The Keyboard Mode drop down menu allows you to use both sets as just Notes, or Notes and Chords.
The interface has the recording and playback controls at the top, the keyboard in the center, channels available to the left, while the Chords, Drum Pattern and Pattern Editor tabs, as well as the Instrument list, can be selected at the bottom.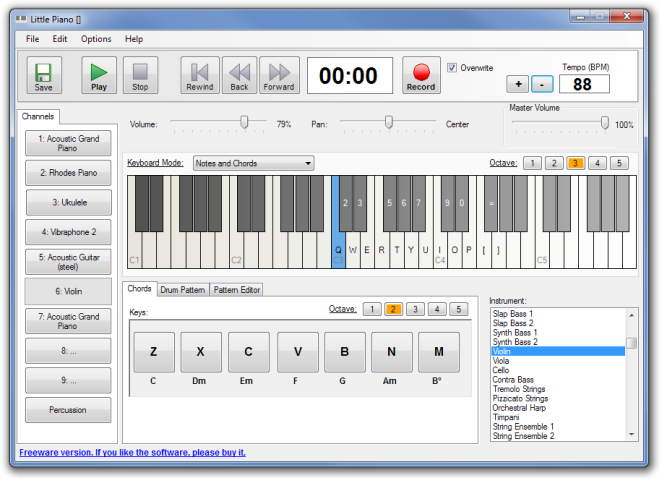 Other than the basic keyboard notes and chords, Little Piano also allows you to set up drum patterns for backing your melodies. There is a list of ready-made drum patterns for different types of music, such as Basic, Blues, Hip Hop, Rock, Misc etc.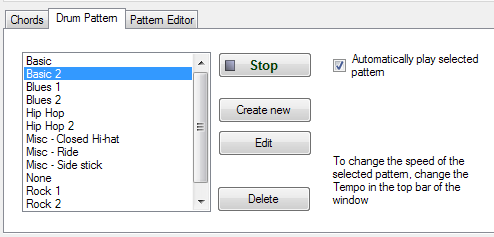 If you don't want to use the default drum patterns, you can use the Pattern Editor to create your own drum patterns. Left-click adds the beat, while the right-click removes it. You can choose from Ride Cymbal, Pedal Hi-Hat, Open Hi-Hat, Acoustic Snare, Acoustic Kick, High Floor Tom and Low Floor Tom. The application provides you with multiple beat patterns, such as 1/2, 1/4, 1/8, 1/12 etc.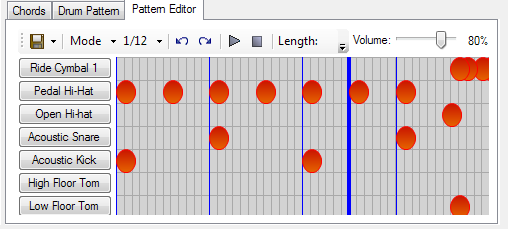 The Instrument List at the right side lets you choose from over 174 types of instruments to create the music of your choice.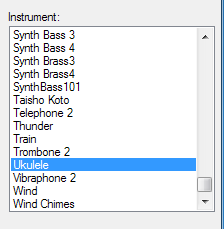 Little Piano works on Windows XP, Windows Vista and Windows 7.