LyricsGetter – Find Lyrics Of Any Song By Mp3 File
LyricsGetter is a freeware application for Windows that can search for lyrics of any song instantly, you can also print and save it quickly. What makes it unique is it's ability to find lyrics by mp3 file, just open an mp3 file by going to File > Open mp3 file and it will detect the song and find it's lyrics instantly.
Below is the screenshot when I selected the mp3 file of the song Holiday by Green Day.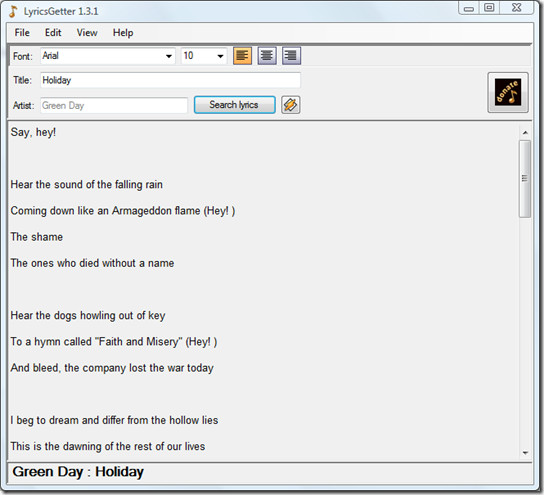 You can copy/paste this lyrics in your notepad to save it and then later print it using your printer. Some features include:
Search for song lyrics by song name and artist
Search for artists by song name
Printing found song lyrics
Saving fount song lyrics to text file
Small and compact
Designed with "Easy-to-Use" concept in mind, extremely easy to use
It works on Windows NT/2000/XP/Vista and requires .NET Framework 2.0 to run. Enjoy!