MagicBerry – Extract Content From BackBerry IPD Backup File
IPD is a BlackBerry Backup File and MagicBerry is a free tool that allows user to extract certain databases such as, SMS Messages, Phone Call Logs, Address Book(Contacts), Service Book, Tasks, Memos, Calendar and export them.
Since the tool is still in beta at the moment, it has an old fashioned installer. But once all installation is complete, you can load it from Programs folder. It has a very basic interface that consists of a simple window with left sidebar. To open a new IPD file, go to File > Open and then select the IPD file of your blackberry.
Once the file has been loaded, you will find all databases such as Memos, Tasks, Address Book, Calendar, Service Book, Photo Call Logs, and SMS Messages listed on the left sidebar.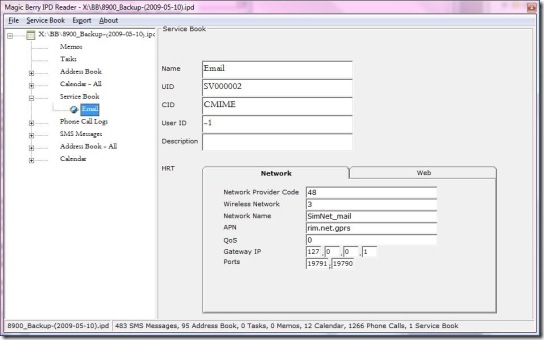 The screenshot above is taken from developer's webpage.
Note that you can only edit Service Book at the moment. To export the a certain database to a text file, select it and then go to Export > Text. New feature are still in development, such as, exporting database to multiple formats(PDF, HTM, XLM), editing Address Book, Merging IPD Files, and much more.
It works on Windows 2000, Windows XP, Windows Server 2003/2008, Windows Vista, and also Windows 7. Enjoy!