Mail Preview Gadget Is Desktop Email Notifier With Windows Phone 7 UI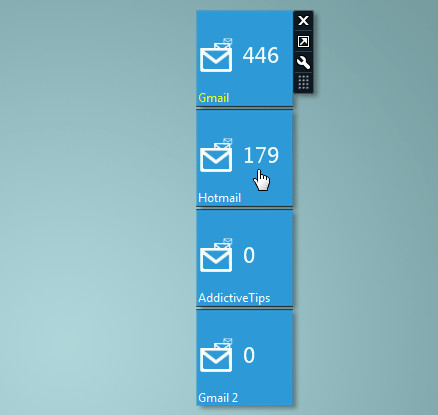 Mail Preview Gadget is a dynamic desktop gadget for Windows 7 and Windows Vista which brings Windows Phone 7 (WP7) user interface to your desktop. The gadget allows you to add as many email services supporting IMAP and POP3 protocols as you want, including both Gmail and Hotmail. Mail Preview gadget is an improved version of basic email gadget with lightweight animations to give users a feel of Windows Phone 7 interface. Apart from WP 7 like design, the 3 different layouts can give additional information, including total emails and total unread messages for configured email accounts. You have option to choose how many mails accounts are to be shown on desktop, with different refresh time interval, starting from 1 min to 60 minutes.
For the first time usage, you need to configure mail accounts. In Settings, under Account window, click New to specify account information, such as, address, port, protocol – IMAP or POP, username and password, mailbox name, etc. Here, you can also enable both notifications to play sounds on finding new messages and mark mail as read when opened options.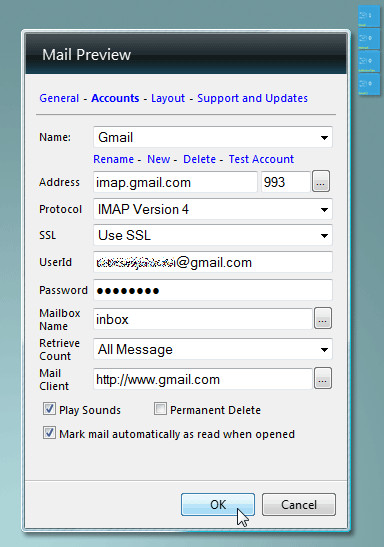 Once all accounts are added, move to Layout window to select which email accounts are to be displayed on desktop and set refresh time interval for each added mail account.
Now click OK to view all added mail accounts on desktop. A click on mail account icon will reveal newly received messages with an option to download and read messages, change font size, and delete the mails directly. The Mail Client button present at the top opens the email service page in your default browser.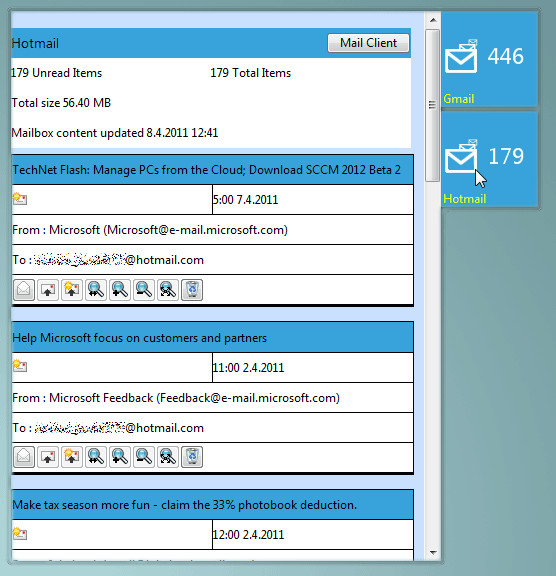 From Settings –> General window, you can switch between available gadget designs. If you're fond of using smart phone widgets on your desktop, also have a look at Metro Home and HTC Home.