Make GMail, Yahoo, AOL Your Default MailTo: Client [Windows]
In Windows you can easily choose which email client should be the default when sending an email. I have options between Outlook 2010, Thunderbird 3, and Windows Live Mail. But what if you want to make GMail and other online services, such as, Yahoo and AOL your default client when sending emails?
In Firefox you can easily do this by heading over to Applications tab and then changing the program next to mailto: but what if you are using Opera, Safari, or Chrome. Following the Firefox method is great if you want to click the mailto: links inside the browser, but what if you want to click mailto: links in applications and other places?
GMail Default Maker is an install-and-forget app. It was originally developed to make GMail the default windows email client but now supports Yahoo and AOL as well. Just select the service which you want to make the default client during installation and restart your browser.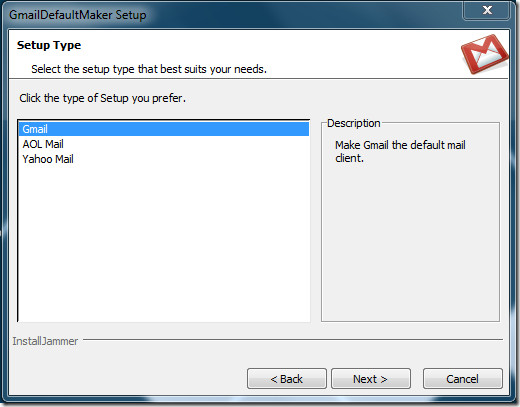 The only problem with this app is the lack of 64-bit OS support. It only works on 32-bit OS at the moment of writing.
It works on Windows XP, Windows Vista, and Windows 7.