How to access the Microsoft Edge about:flags page
Microsoft Edge is Chromium-based. Most features that you find in Google Chrome are now available in Microsoft Edge but with some modifications. For example, instead of syncing data with a Google account, Microsoft Edge will sync with your Microsoft account.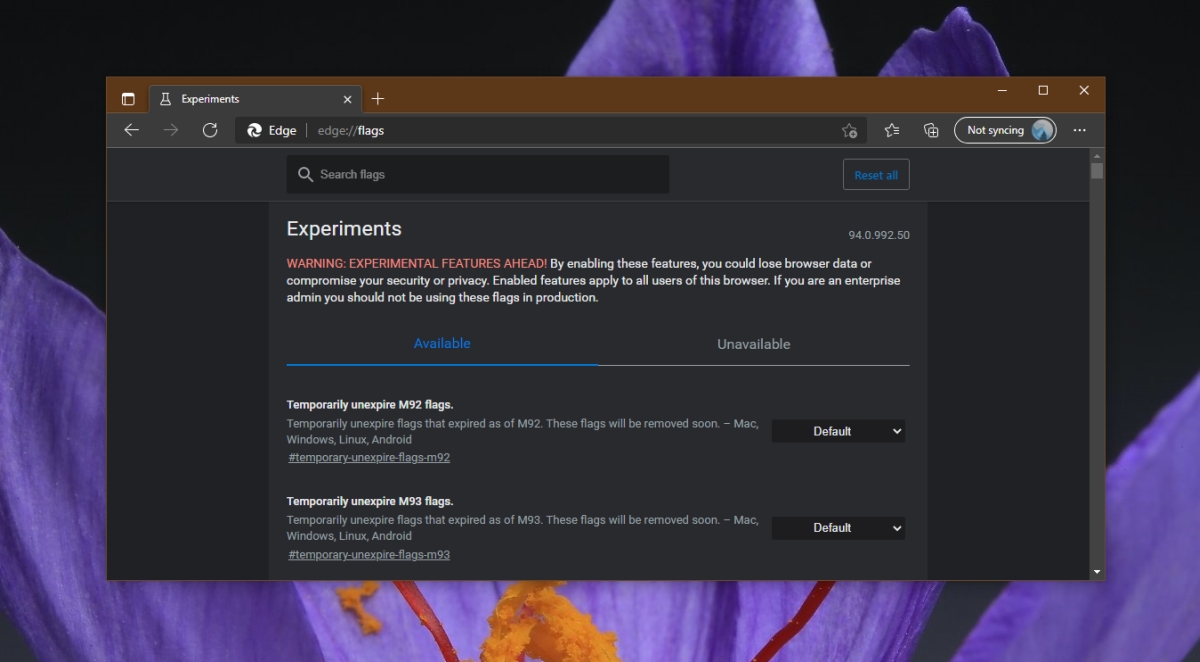 Microsoft Edge about:flags
Chromium has experimental features, and upcoming features. These features, before the graduate to a stable version of the browser, can be enabled from the Flags page. Flags is basically the name Chromium gives these experimental features. Microsoft Edge has them too.
Access Microsoft Edge about:flags
It's fairly easy to access the Flags page in Microsoft Edge.
Open Microsoft Edge.
Paste this edge://flags/ in the URL bar.
Tap Enter.
The flags page will load.
Modify flag in Microsoft Edge
You can modify a flag in Microsoft Edge. Doing so will enable and disable the feature that it is for.
Open Microsoft Edge.
Go to the Edge Flags page (see previous section).
Search for a flag.
Open the dropdown next to the flag.
Change the flag state to Enabled or Disabled.
Relaunch Edge to apply the change.
Note: Some flags may have additional options or options other than Enabled/Disabled. It depends on the flag though Enabled/Disabled are the common ones. Read the description of the flag to know what the options in the dropdown do.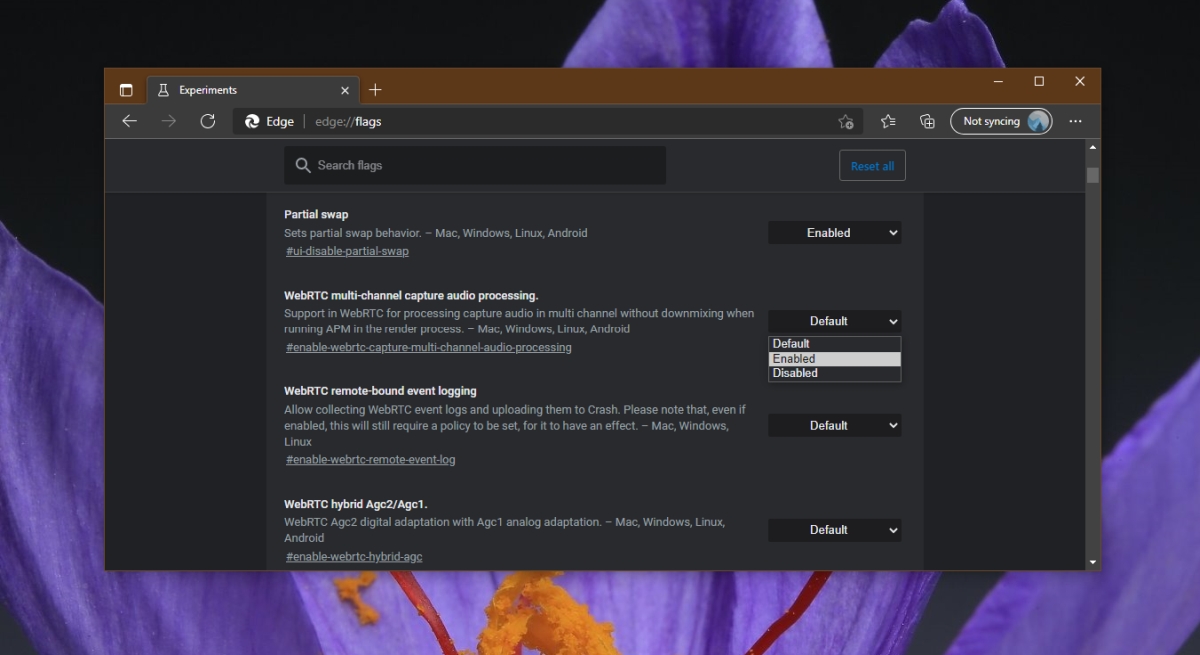 Reset flags in Microsoft Edge
Flags aren't always stable. You're free to enable or disable them but they may cause problems with the browser. You can reset a flag as easily as you can enable or disable it.
Open Microsoft Edge.
Go to the Flags page.
Look for a blue dot next to a flag. The blue dot indicates a flag that has been modified.
Open the dropdown next to the flag.
Select the Default option.
Relaunch Microsoft Edge to apply the change.
The flag will be reset.
Conclusion
Flags that have been changed, appear at the top of the Flags page. Enabling a flag may not always trigger the feature. In some cases, the feature may still be enabled/disabled on a per-account basis. Flags come and go based on the browser version. There is no guarantee that a flag will become a stable feature. It may be removed altogether regardless if it works well and users like it. The flags you see in Edge may not be the same ones you see in Chrome. There will be considerable overlap but that doesn't necessarily mean that the same flags will always be there. Additionally, some flags may behave differently in Edge compared to Chrome.