Microsoft Office Word 2010 Tabbed Browsing
A few months back we covered a great add-in for Microsoft Office 2007 called OfficeTab which could add tabs in Word 2007, Excel 2007, and PowerPoint 2007. I gave it a shot on Office 2010 but it failed to work due to compatibility issue.
While we wait for the developers to make it compatible with Office 2010, there is another add-in which will do the job for now. The good part is that it works seamlessly while the bad part is that it is developed for Word 2010 only, leaving Excel 2010 and PowerPoint 2010 behind.
The add-in in question is Word Addin Tabs which was originally developed for Word 2007. It adds two things, tabbed browsing and Windows 7 jumplist support. The latter however does not work with Word 2010 but we can see the support soon added in the near future.
Unlike OfficeTab add-in where you only needed to press Ctrl+T hotkey to open a new tab, this add-in requires you to open a new Word document so that it can be added as a new tab.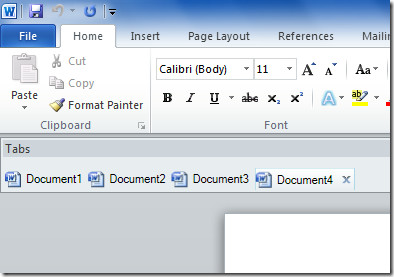 To disable this add-in, simply navigate to the Add-Ins section and hit the Tabs icon.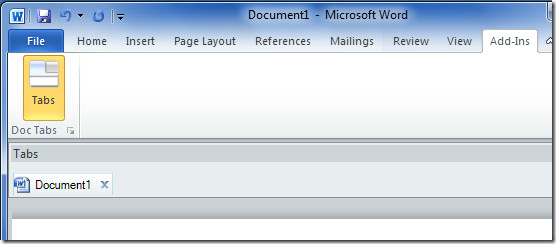 At the moment of testing it works with only Word 2007 and Word 2010 beta. According to the developer, Word Addin Tabs realizes most of the functions of "IE Tabs" in MS Word.