Microsoft Word Document Broken Link Checker
Document Hyperlink Checker is a free add-in that scans for all broken and suspicious links inside the Microsoft Word Document. There is a possibility that when you receive a document with bad links, it might infect your computer. So you can scan it first before clicking any link.
Another situation where it can be helpful is when you want to send a document but want to verify if all links are working. Instead of having to manually check each and every link, you can simply run this tool and it will notify you about the broken links instantly.
Once installed, open Word Document and go to AbleBits tab, then select Hyperlink Checker for Word.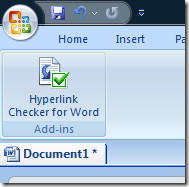 You can check the total number of links and their destinations by clicking Show All button. Clicking Suspicious button will tell you which links it finds to be suspicious and which links are broken.
Note: During my testing, it found AddictiveTips blog along with Microsoft official site to be suspicious I believe the database for finding suspicious websites is not big enough for this add-in to determine properly about malicious links.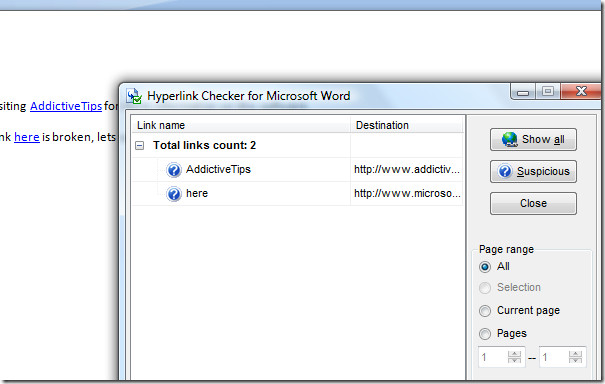 If there are say 50 links in a very long document and you want to find a link to a specific website, then you can run this tool to list all websites quickly. In this way you can pinpoint various links.
Download Hyperlink Checker Add-In
It works with Microsoft Word 2000, Word 2003, Word 2007, and Word 2010. Enjoy!