How To Switch To Mini View In The Movies & TV App In Windows 10
Windows 10 Creators Update has a new feature called Mini View. It's limited to the Movies & TV, and Skype Preview apps for now. This feature lets you pin the app to a corner of your screen on top of all other apps. Think picture-in-picture mode that lets you continue watching a movie while you work. Mini View in the Movies & TV app is a feature added with the Creators Update. If you're still running the Anniversary Update, you won't be able to use it. An update to the app alone will not enable Mini View in the Movies & TV app. Here's how you can switch to the mini view in the Movies & TV app in Windows 10.
Switch To Mini View In The Movies & TV App
Open the Movies & TV app. Select a movie or a TV series episode to play. When it starts playing, look at the control bar the bottom of the screen. This is where you have the play/pause, fast-forward, rewind, subtitle, volume, and full screen buttons.
You will see a new button next to the full screen button. It looks like a rectangle within a rectangle. Click it to switch to the mini view. The video will be pinned to the top right side of your screen.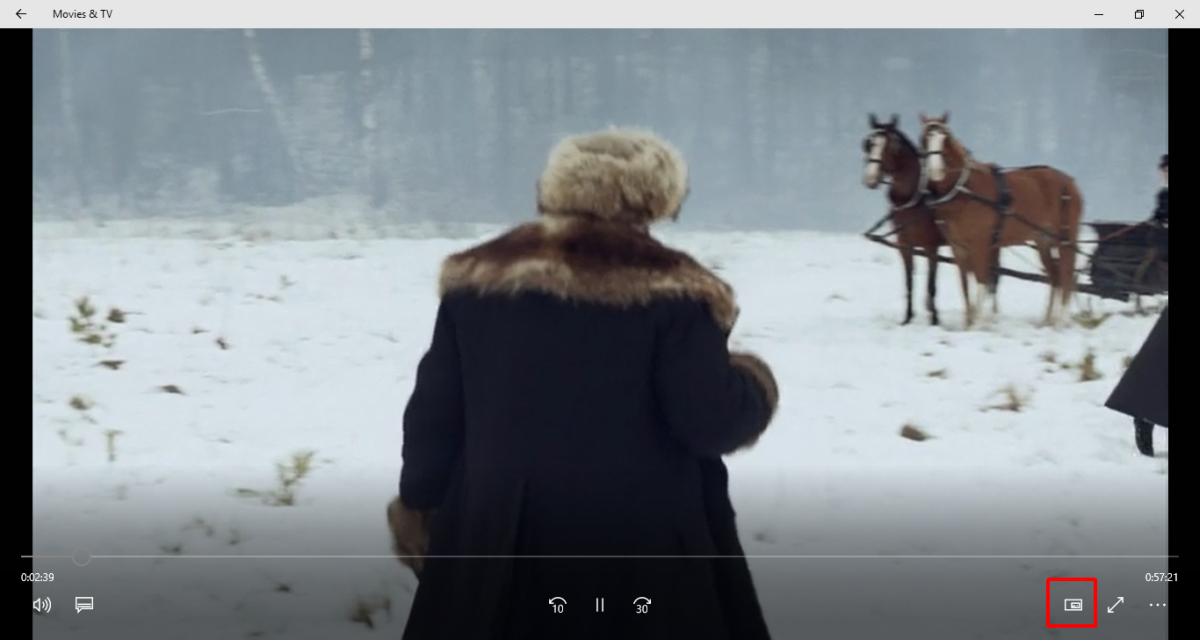 Use Movies & TV App In Mini View
You can play/pause a video in mini view. When you hover the mouse cursor over the mini player, play/pause buttons appear alongside forward and rewind buttons.
You can resize the player. Click and drag a corner outward to make it bigger. It can occupy 1/4th of your screen but not more. Click and drag it inward to make it smaller.
To position the player in a different corner, click and drag the title bar to reposition it.
Exit Mini View In The Movies & TV App
The mini view has the same rectangle-in-rectangle button that the Movies & TV app has in its normal view. Click this button to exit mini view and return to the Movies & TV app.

The Mini View Feature In Windows 10
Microsoft plans to expand this feature to other apps in Windows 10. It will allow you to pin apps to the top of all other windows in one corner of your screen. The feature is already enabled in the Skype Preview app. When you switch away from the app, it automatically switches to the mini view. If you've used the Skype desktop app, this isn't going to impress you because the desktop app has done that for ages.
What's exciting about this feature is that it's meant for other apps. It's useful for media apps but can be useful for your browser and the photos app.