MiniLyrics – Lyrics Plugin For Almost Every Music Player Known To Mankind
MiniLyrics is a standalone lyrics plugin that supports every popular music player available out there; Winamp, WMP, iTunes, MediaMonkey, Spotify, Zune, JetAudio, Foobar2000, RealPlayer, Songbird, you name it. It does not integrate inside any music player directly, rather it automatically detects the song (and music player) and launches itself showing the lyrics as the song plays.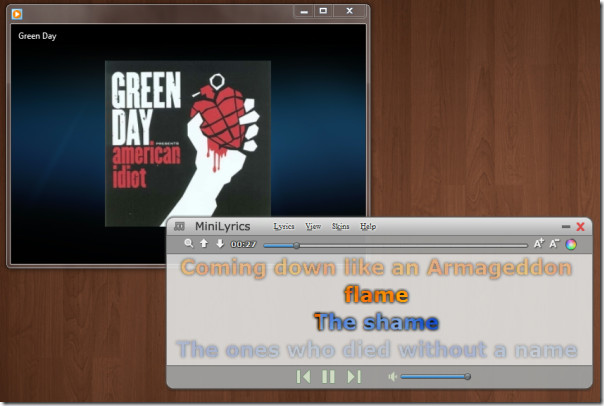 Instead of simply showing the whole lyrics, it only shows the words that are being sung and then fades out in the background. When Karaoke mode is enabled from Preferences, it highlights the words which are being sung, so that you can sing along.

The lyrics can be resized and placed anywhere on the screen, the colors, fonts, and display style can also be customized. Once your mouse is out of focus it will automatically hide the main interface, showing only the lyrics.
It downloads the lyrics to your local drive in C:\Lyrics\ directory but this can be changed. You can even select to save lyrics in the song's directory. It allows you to save the lyrics in LRC Lyrics File (.lrc), Text File (.txt), and Snc File (.snc) formats. The best part is that it has an option to save/embed the lyrics in the Mp3 file.
Finally there is a build-in text editor which can be accessed from View menu. You can also open the downloaded lyrics text file in an external editor, such as, notepad.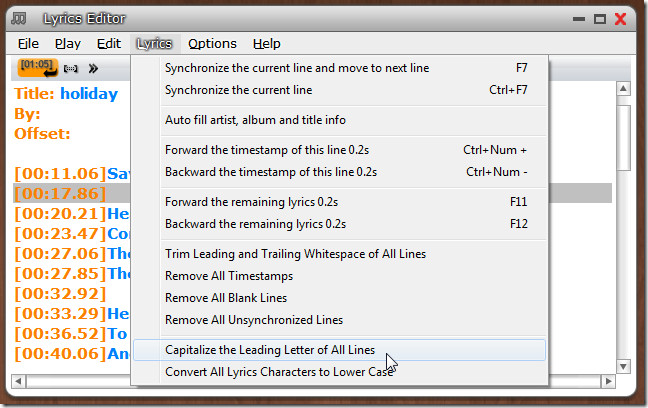 It has a huge lyrics database which is expanding every day so displaying the correct lyrics is not a problem. The only downside is that it is a nagware, which means it will prompt you to buy the license key every time you start your music playlist. It is not something to worry about since the free trial never expires.
MiniLyrics is better option than previously reviewed Lyrics Plugin and LyricToy, because the developer is actively improving the application and the lyrics database every day.