Mozilla Thunderbird 15: A Look At New Features
For a while now, I have been wondering why Mozilla would announce to take a step back from the development of its Thunderbird email client. What didn't click my mind is that it's always been one of the most popular, open source desktop email clients around. Perhaps the firm wants to revitalize itself by putting the same resources on their other projects, such as Firefox OS or the far-famed Firefox web browser, especially on the mobile platform. On the flip side of the coin, the company rolled out an updated version of Thunderbird earlier this week, the Thunderbird 15. Not only does the new version look much more polished, after a few security fixes and a captivating design, but the folks over at Mozilla have also thrown in a couple of new features, such as chat support and Ubuntu One integration. Lets find out what's so cool about the latest release.

Meet the New Australis Theme
The development and feel of both Firefox and Thunderbird have always been synchronized. The latest version looks more like the Firefox than an email client we all knew. The obvious change is the brand spanking toolbar and menu design, which according to the company, is "Replicating the new look and feel of Mozilla Firefox", making the upcoming Australia Theme a common ground among all of the company's software packages. The theme comprises of a new tab design, which further enhances the user experience. The company plans to implement Australis theme on Firefox as well.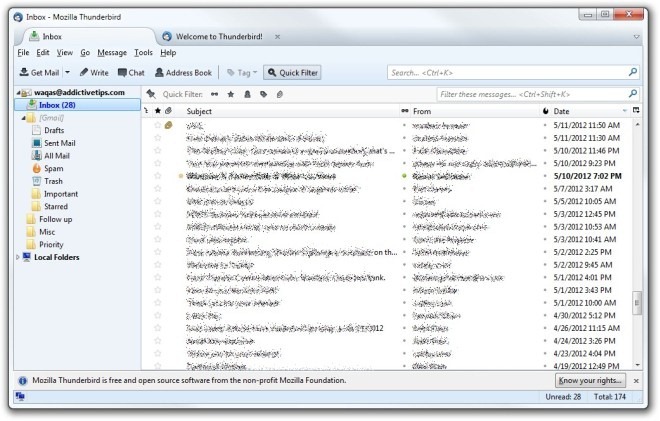 Ubuntu One Integration
Being a Thunderbird aficionado, you would know that Mozilla introduced a Thunderbird Filelink feature back in June. What it does is it lets you upload large email attachments to an online storage. This not only saves you the hassle of attaching large sized files with your emails, but also means less email bounce backs. Mozilla has now included Ubuntu One to the Filelink settings console, in addition to YouSendit. If you aren't already familiar, Ubuntu One is a Dropbox like cloud storage service, mainly targeted towards Linux users.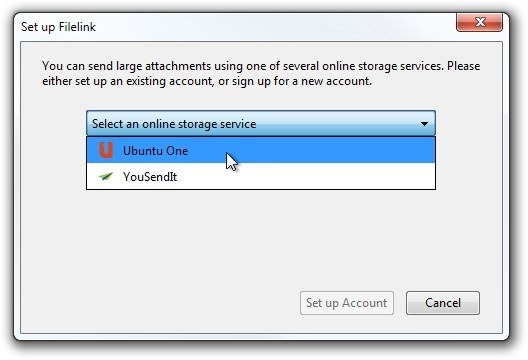 Do Not Track
Mozilla introduced Do Not Track option back in the days of Firefox 4, but it remained absent from Thunderbird up until now. The feature allows you to opt-out of third-party tracking during web searches, which can include behavioral advertisements. While Web Search was already present in Thunderbird, Do Not Track has also now implemented to it. To enable this feature, click Options from the Tools menu and then head over to Security tab. Click Web Content and enable Tell web sites I do not want to be tracked checkmark.
Instant Messaging And Chat
Thunderbird now allows you to do instant chat messaging with your friends on Facebook, Twitter, GTalk, IRC and XMPP. I'd say this feature is something I fancied a lot, allowing me to keep an eye on my friends and colleagues across social networks, all from within one place. To configure Chat settings, from the File menu, hover the mouse pointer over to New sub-menu and then click Chat Account. Following a few simple steps will instantly let you connect to your favorite services. Chat opens up in a separate tab, displaying a list of your contacts to the left.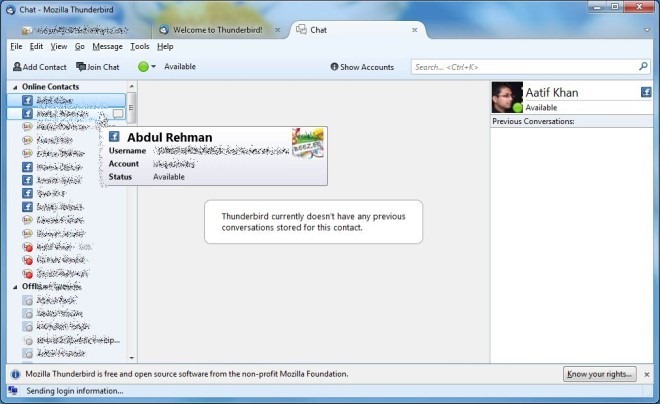 Other than the aforementioned changes, the company resolved a few security and other bug fixes in Thunderbird 15. Mozilla plans to continue the trend of releasing updates to up to Thunderbird 17, before scaling back from its further development.