Search For & View Lyrics Of Any Song With musiXmatch For Windows 8
Listening to songs is probably the best way to relax. Some people like to do it while working, and others like doing it in their free time. In the past, people had to buy cassettes and CD's in order to listen to songs, but nowadays, you can just buy them online and download them to your computer, smartphone and portable media player. Another advantage of using the internet to listen to your music is that you can search for lyrics for each song. The Windows Store is slowly filling up with music related apps. Last week, we covered the TuneIn Radio app for Windows 8. Today, we have a lyrics app for Windows 8 that, like TuneIn, is already fairly popular on Android and iOS platforms.  musiXmatch Lyrics allows you to search for the lyrics of any song, whether on your computer or not, and view information about the artist, such as their biography, discography etc.
Compared to its Android and iOS counterparts, the Windows version comes with limited features. While the Android and iOS variants provide users with several playback and playlist navigation controls, the Windows version, apart from searching for lyrics, only lets you play or stop a song. Plus, it also doesn't allow you to create playlists or navigate through your music collection. In order to download the app, open Windows Store, use Win+Q to bring up search bar and then type in music match lyrics. Now, select the Lyrics app from the main window.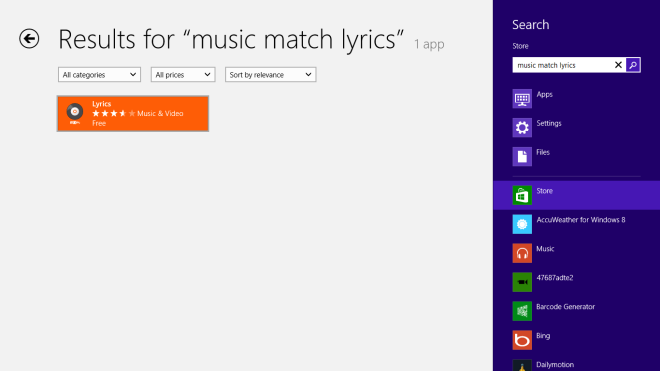 This will open the in-Store page of the app. From the left side, click the Install button in order to download and install the app to your device.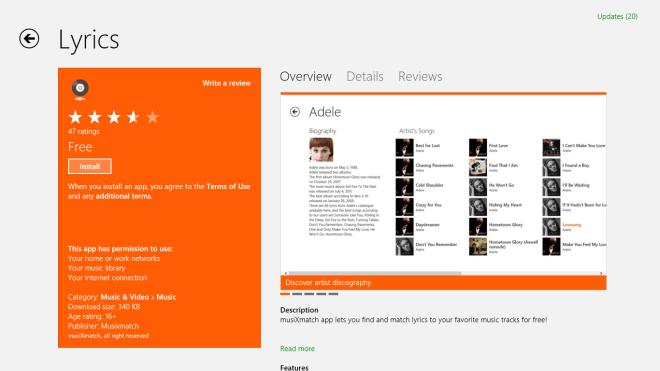 The main page of the app displays the top songs from around the world. All the top tracks are categorized into 4 groups including Top United States, Top World, Top United Kingdom and My Music.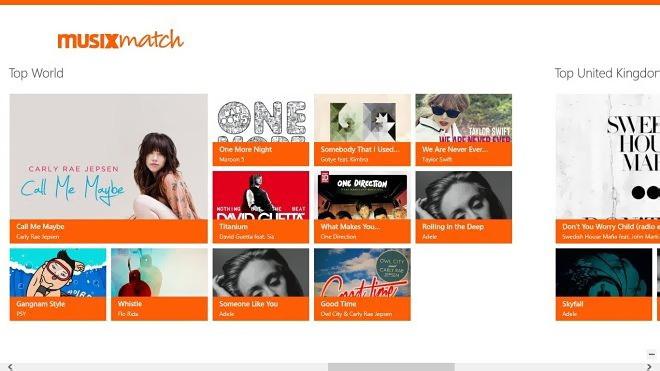 In order to search for the lyrics of a song, press Win + Q to bring up the search bar at the right side, enter the name of the song and then press Enter or click/tap search button.
Now, select the required search result to view the lyrics of the song.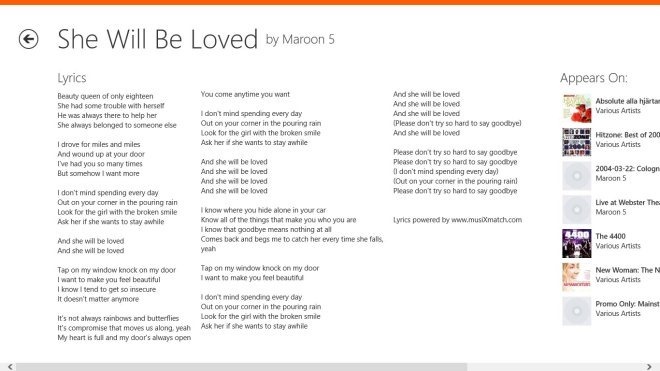 As stated earlier, it also lets you search the lyrics for songs that are saved on your PC. Just right click the song, and select Lyrics from Open With menu to play the song in the app as well as display the lyrics.
Hopefully, future versions of the app include some options for playing songs, navigating through the music collection and managing playlists. musiXmatch Lyrics works on both 32-bit and 64-bit editions of Windows 8. We tested it on Windows 8 64-bit.
Get musiXmatch Lyrics from Windows Store