Mute Audio By Clicking System Volume Tray Icon In Windows 7
SndVolPlus is a nifty little replacement of the default sound volume control in Windows 7. It adds two simple features, mute system sound when middle clicked and open mixer when double-clicked on the system tray icon.
The app is portable and consists of nothing but a single executable file. When run, it places a volume icon similar to the default icon in the system tray. You will need to first hide the default system volume icon to prevent confusion which can be done via System Tray Taskbar Properties –> Customize Notification Icons.
Once the default system volume icon is hidden, SndVolPlus will replace it in the system tray. The difference between the new icon and the old one are none except that now middle-clicking the icon will mute the system volume.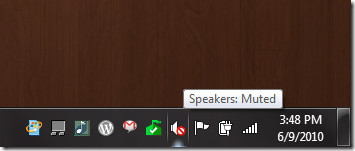 To permanently replace it and make sure it run during startup, add the portable executable file in the Startup folder. This app has been tested on both Windows 7 32-bit and 64-bit OS.