Browse Reddit The Windows 8 Way With Narwhal
So you like lots and lots of cat pictures, right – and dog pictures, too? You may not know (or maybe you do), but Reddit is supposedly the only place where you'd find plethora of cats and dogs pictures, and a mix of other hilarious stuff. If you're on Windows 8 and you can't resist using Reddit – and you also like to stay within Metro the Modern UI – then Narwhal is probably what you need. It's a Windows 8 Reddit client that lets you browse through your Reddit subscriptions and brings all your subreddits to the front page. It fully supports both tablets and desktops, the latter of which can be controlled using the mouse. Interestingly, Narwhal lets you browse the Reddit feeds even without a user account, but if you have got one or even multiple accounts, you may simultaneously handle them all, too. Continue reading for more details.
Narwhal is available for download at Windows Store – the exclusive Windows 8 apps marketplace. To download the app, simply head to the Windows Store and type "Narwhal" to initiate the search. After the search results are displayed, you can access the app's main page in Windows Store.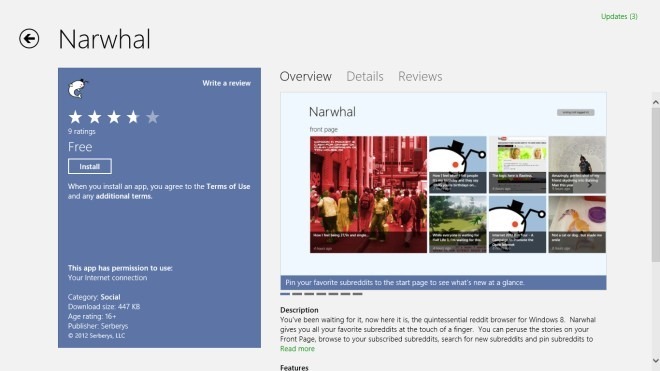 The front page of Narwhal has plain white background. As per the usual trend in Modern UI apps, the Reddits are displayed in tiles, and are categorized under different groups.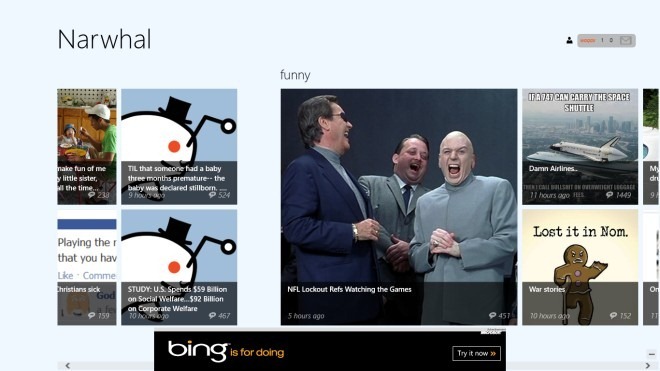 To login with your Reddit account, click Settings in Charms Bar and select Account. Narwhal enables you to add multiple user accounts so you may easily switch among one another. To add an ID, enter username and password and click Add New Id. You can also click Test Login button to check if the app successfully links your account.
Clicking Preferences within the Charms Bar brings up settings pane. However, all it offers is toggle between Big Picture and NSFW parameters.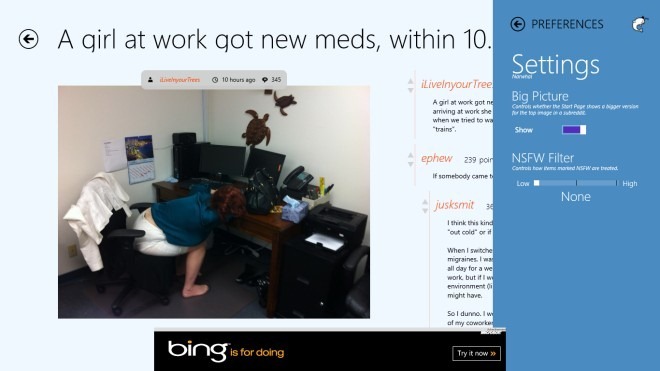 The subreddits can be can be browsed easily via clicking the pertaining tile on front page. The subreddit page displays comments to the right (which obviously you may scroll through) and right-clicking anywhere on the interface slides up the bottom menu, from wherein you may upvote or downvote a reddit, or even reply to the comments.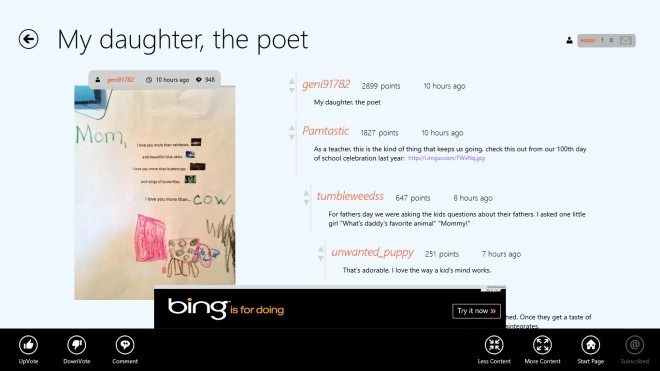 Even though Narwhal is a nice effort by the developer, our previously covered Snoo Reddit client simply looks and performs way better, with brilliant interface and additional features. Narwhal is available at Windows Store and works only on Windows 8.