neoSearch: Index & Search Shared Folders On The Network
The build-in Windows 7 Start Search is great for quickly finding a program or file, but not perfect. One of the biggest headache is that it cannot index shared folders in my Home network. Ofcourse there are plenty of 3rd party tools that can come to the rescue, one that recently gained my attention is neoSearch.
Why neoSearch? Because it the most simplest lightweight search tool available today. What I like the most is the fast indexing speed and the real-time search results, which according to the developer, are displayed in less than 0.01 seconds after you type a keyword or hit Enter.
I have a Home Server that contains most of the multimedia content(movies, music, etc) and software, so indexing them makes sense. Please note that neoSearch can index both both local and network drives/folder, this post will focus on the latter only.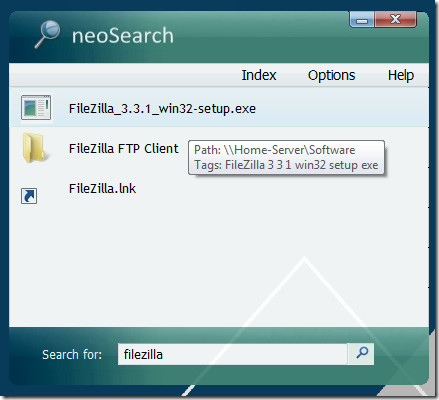 To index a network location, go to Options and then head over to the Include tab. Hit Browse and select the shared folder on the network that you want to index. Once you have selected the folder, hit Include and it will be added to the list.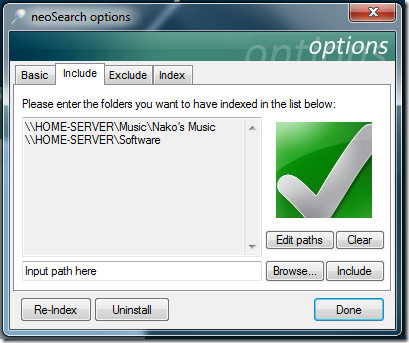 Hit Re-Index button to index this new location or you can head over to the Index tab and select when to automatically index the system. You can choose between Daily, Weekly, Fortnight(every two weeks), Monthly, or Manually.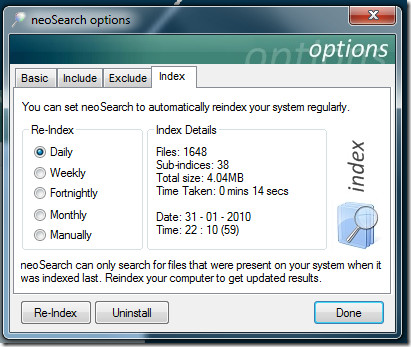 While it is indexing the files, you can close neoSearch and it will sit silently in the system tray. You can see the progress the of the indexing which will be displayed on the lower-right side of the screen.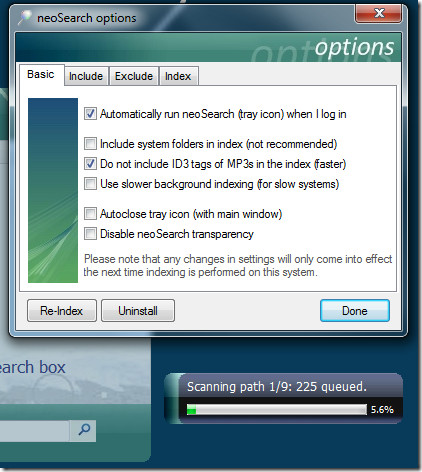 It takes less than 2MB system memory and can be launched by hitting Win + S hotkey.
It works on Windows XP, Windows 2003/2008 Server, Windows Vista, and Windows 7. For more, check out Windows 7 Library Tool if you are looking to index network locations in Windows 7 Libraries.