NppDocShare: Real-Time Document Editing On Multiple PCs In Notepad++
Simple text editing can be performed using any text editor, such as the Windows Notepad, or the WordPad, if you need some more options for editing text. However, when you are editing something other than plain text, such as a code for a program you are writing, your editing needs are not met by the default programs for handling text included in Windows. Writing and editing programming languages without any extra tools can make the process very hard on the coder. Notepad++ is an open source text editor that allows users to perform both basic, as well as advanced text editing. The software allows users to install various plugins that enhance its capability even more. New plugins are coming out for Notepad++ every day, making it one the most powerful text editors out there. NppDocShare is one such plugin that increases the document editing capabilities of Notepad++ by allowing users to edit the same document from two different computers at the same time. You just need to connect the computers through a network connection, and you will be able to edit the document in real time. All the actions performed by each party will be instantly available to the other, without any lag or delay.
This tool can be extremely useful to people who want to work on the same project, but it is not possible for them to be physically present at the same location. You can install NppDocShare on both the computers running Notepad++ and edit it simultaneously without having to constantly worry about what the other person is doing. It saves a lot of time for both users because you don't have to go through the trouble of sending the edited file again and again to each other.
To install NppDocShare, open Plugin Manager from Plugins—> Plugin Manager—> Show Plugin Manager. Under Available tab, select NppNetNote and click Install.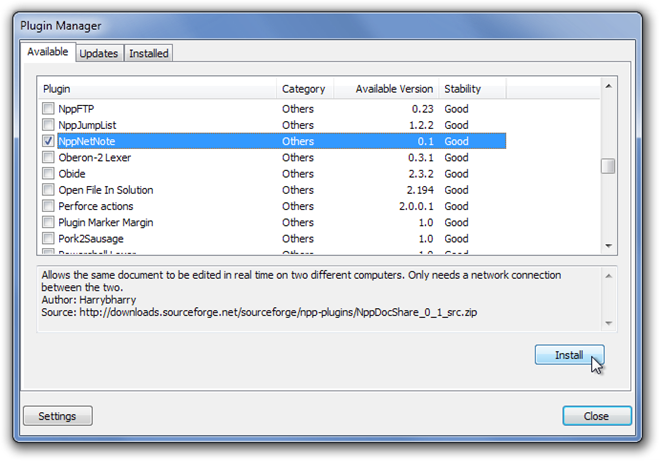 Once installed, it will add the NppDocShare bar at the right side of Notepad++. If you have the document that needs to be edited on multiple systems, open the document in Notepad++ and select Serve to make your PC the server. By default, the Address and Port will be set as localhost and 20081, respectively.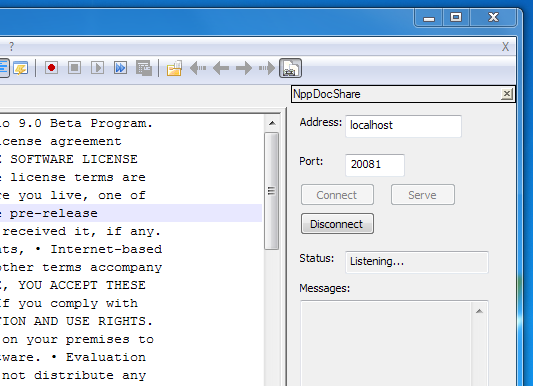 On the other computer, enter the IP Address and Port of the server PC, and click Connect. The document will be automatically available to the other party, and all changes will be made in real-time on both systems.
NppDocShare is an open source plugin that works with all versions of Notepad++. Testing was done on Notepad++ 5.9.5.