Open Windows Explorer Folder In 32-Bit Shell When Using Windows 7 64-Bit
When Windows Explorer Shell Extensions are ported over from Windows XP to Windows 7 they don't work with 64-bit version of Windows 7 because the original shell was developed for 32-bit OS only. At AddictiveTips, we occasionally come across such shell extensions that lack 64-bit support.
Even though the shell extension has installed successfully, you won't find it in the Windows Explorer context menu. There is a small hack that allow users to convert the Windows Explorer from 64-bit(x64) to 32-bit(x86), but it is too risky.
Half Shell is a tool that can open folder in 32-bit inside Windows Explorer so that you can finally use the 32-bit shell extensions. This method is more efficient, safer, and easier than hacking the registry.
We all know that pressing Ctrl+Enter hotkey will open a selected folder in new window. Half Shell adds a new hotkey, which is Shift+Enter. Pressing this hotkey will open the folder in a new window but in x86 mode rather than x64.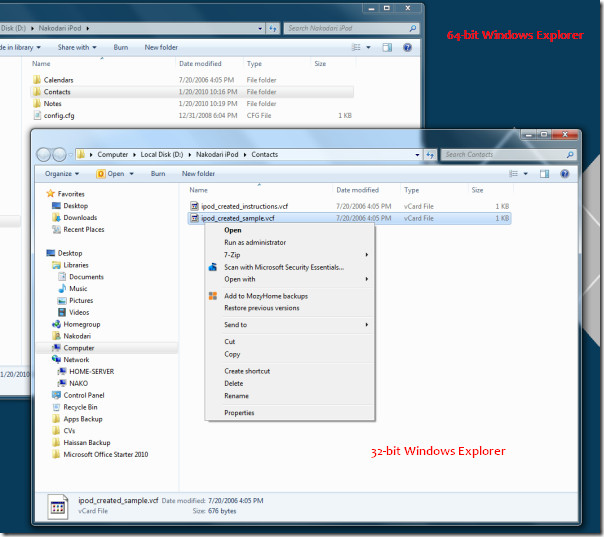 Now you can work with all 32-bit shell extensions inside this folder. The app has no interface but sits silently in the system tray which can be closed anytime. It is a portable tool which works on Windows Vista 64-bit and Windows 7 64-bit OS only.
Download Half Shell (Scroll down to find it in the middle of the page)
It will automatically free up all unneeded memory after the folder has opened completely in 32-bit. Thus, it is completely safe to use without worrying about the memory usage.