PenyuLocker: Quick Folder Protection For Windows
Windows 7 comes with a build-in encryption tool called Bitlocker which can encrypt and password protect your entire drive, but what if you want to quickly prevent access to a specific folder without having to encrypt it's data (which is a slow and tiresome process).
PenyuLocker is a small tool to quickly secure any folder with a password. Once secured, the folder turns into a working recycle bin. Open the recycle bin and you will see all the items that are moved for removal. To unlock a folder, simply select the folder and enter the correct password. That's it!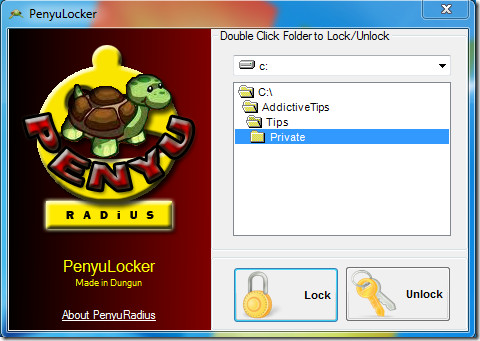 At AddictiveTips, we prefer using tool that comes with context menu support for quickly securing a folder and sadly this tool lacks the support, which can be considered a big downside. It works on all versions of Windows after XP. We tested it on Windows 7 32-bit system.
For more, you can also check out Cryptor, which can secure both files and folders and supports encryption.