PerfectDisk Free: Defrag Disks & Optimize Solid State Drives (SSD)
Disk defragmentation is vital to keep your computer up and running steadily. Not only does it boost the processing performance of a computer, but also keeps the hard disk drive in healthy state. Installations, copying and moving files here and there, other similar activities leave a lot of fragmented data on your disk that create performance bottle necks due the fact that your data gets scattered around the hard disk platters. To cope with this problem, Windows' default defragmentation utility pretty much handles the job. However, if you need something more reliable and quicker, then meet PerfectDisk Free, developed by Raxco Software. The application packs in some powerful features with handsome interface, and automatically starts running with your windows to always keep drive fragmentation in check. It comes with a special focus on SSDs (Solid State Drives), which do not need regular defragmentation and may get damaged if subjected to such a process.
On first launch, the application starts defragmenting your primary drive. To defrag a partition manually, you just need to select it click Start at the upper left corner of the GUI. Once started, your partition begins consolidating the data. You can keep an eye on processing bar to know how much defragmentation is already done. You may also use the drive map to monitor the defrag process, and pause or stop the process any time you want. If you just need to analyze your disks and not start the defrag process, just highlight your drive and click Analyze.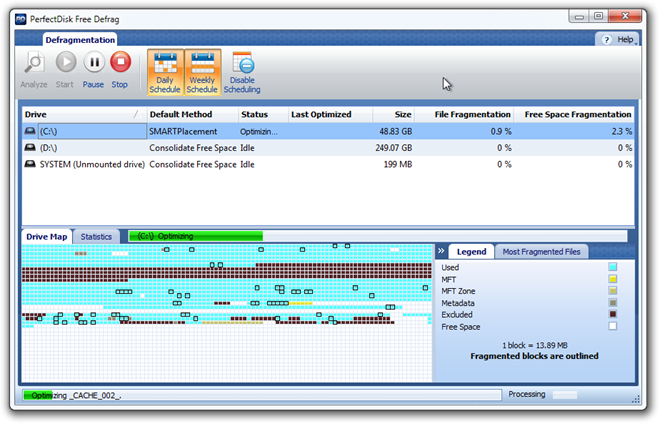 Once the defrag process finishes, the application shows a statistical log to give you information regarding the defragmented drive. Along with manually scanning your drives, you also have the option to perform schedule maintenance of the drive to daily and weekly, or disable it altogether. Leaving weekly schedule enabled is, nevertheless, recommended, as it would help keep your drives in top-notch condition.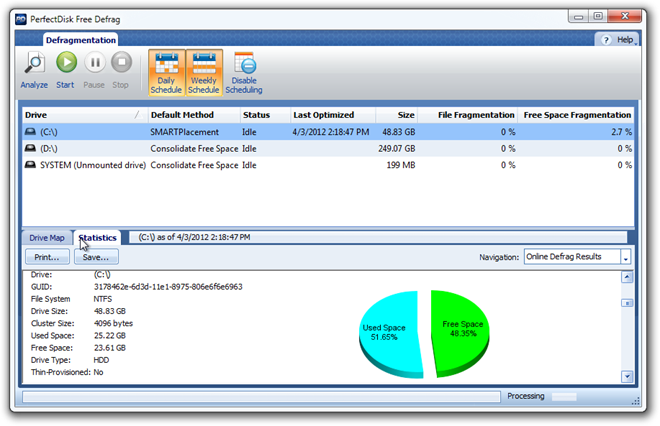 As we mentioned earlier, PerfectDisk Free is particularly useful for Solid State Drives. Since SSDs don't suffer data fragmentation as regular hard drives, running a defrag process on them would actually be damaging. This tool handles SSDs in a separate manner, ensuring that your precious drive stays healthier for a longer period of time by circumventing the unnecessary and harmful defrag processes offered by other programs. It is a quality alternative to the default windows defrag utility that features a lot more. It optimizes your disk drives to save you from those long loading times, whether you're playing games or doing other stuff on your computer. The application works on Windows XP, Windows Vista, Windows 7 and Windows 8.