Protect Your Mail Client Against Spam Emails With Spamihilator
Tired of spam emails in your mail client? Want to get rid of spam emails so you can easily focus on what's more important? Try Spamihilator. It is an easy to configure, yet comprehensive, desktop application for filtering out spam mails from mail clients such as MS Outlook, Eudora, Mozilla Thunderbird, IncrediMail, Pegasus Mail etc. It works by scanning incoming emails on your mail client and filters junk emails, while running in the background. The application's Learning Filter (Bayesian Filter) calculates spam based on it's own spam identification mechanism, as well as user-defined filters based on words and regular expressions. This method can be used to progressively reduce the amount of junk mail delivered to your mail client by training Spamihilator to completely filter out spam mails.
Setting up Spamihilator is easily done by the first run configuration wizard. It will automatically detect all installed mail clients on your system, and all you have to do is select a mail client from the list and click Next to continue.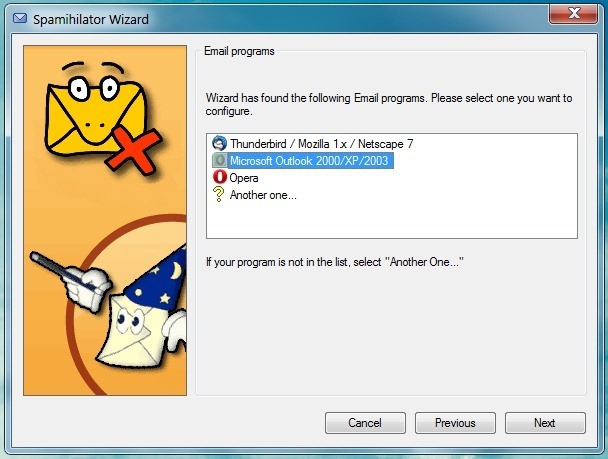 The next time you launch your mail client, you will be asked to verify your email account credentials, after which email scanning will begin.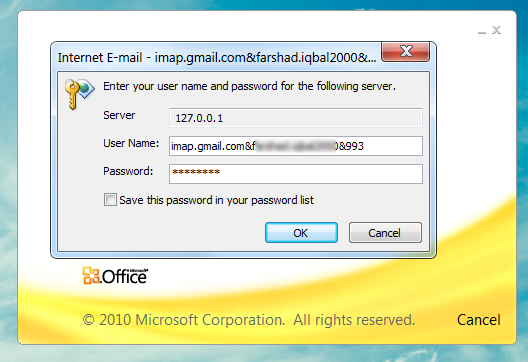 Spamihilator will scan incoming mails and filter out junk emails.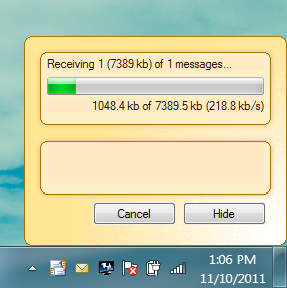 You can access Spamihilator settings from the system tray. You can also acquire help regarding the use of Spamihilator from Training Area option (in system tray menu). You can even view spam stats and junk emails from Spamihilator 's own Recycle Bin.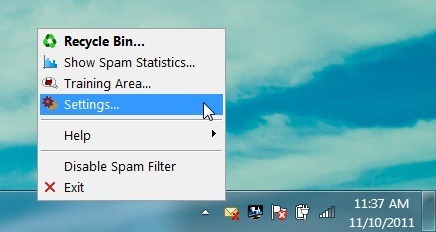 Spamihilator provides comprehensive configuration options to help you filter junk emails. The options are divided in five categories, namely, General Settings, Connection, Filter Properties, Senders and Attachments. You can add/remove items from the system tray menu, enable parental control, change interface language and set status window size from General Settings. If you would like to set a custom SSL/TLS port, then head over to the SSL/TLS settings from Connection menu. From Filter Properties, the aggressiveness of the spam filter can be set (normal, medium or strict) and installed plugins can be removed (attachment filter, DCC filter, image filter, learning filter, etc). The Senders category enables adding block and safe senders and configuring rules for attachments, DCC filter, learning filter, links, newsletters and spam words.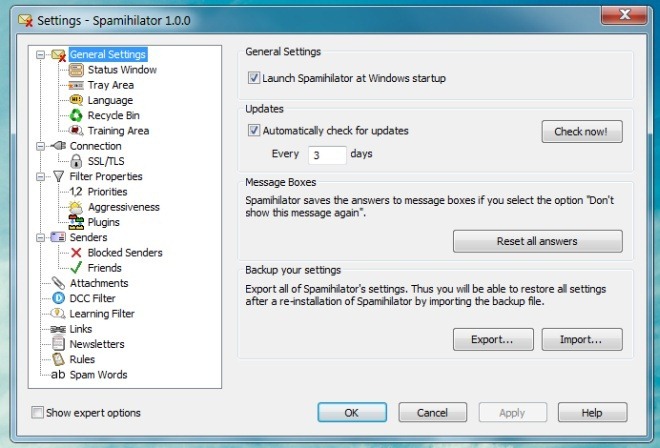 Spamihilator works on all major email clients including MS Outlook 2000/­XP/­2003/­2007/2010, Outlook Express, Eudora, Mozilla Thunderbird, IncrediMail, Pegasus Mail, Phoenix Mail, Opera and others. The supported operating systems include Windows XP, Windows Vista and Windows 7.