QMP3Gain: Volume Normalizer Front-End For MP3Gain With Batch Support
Isn't it quite cumbersome to fiddle with the volume slider every time a new song is played? Some tracks are in deafening high volume, while others hardly reach our ears. If you have been looking for a way to normalize the sound across a number of soundtracks, and that, too, without any loss in quality, then QMP3Gain is probably what you need. It's an open source application that provides front end for MP3Gain engine, a robust volume normalization engine that losslessly adjusts the volume across all the selected tracks – particularly effective in normalizing a whole album. Most volume normalizers gain boost in volumes via peak normalization; contrary to the norm, MP3Gain engine does statistical analysis of the file and makes adjustments without re-encoding.
The interface of the application looks simple and is pretty much self-explanatory. Hovering the mouse pointer on the toolbar buttons provides a mini description of the underlying function. The tool supports batch normalization, which means you may save a lot of time by selecting multiple files in one go. The usage is quite simple as well. First off, select your target volume in dB and add your MP3 files.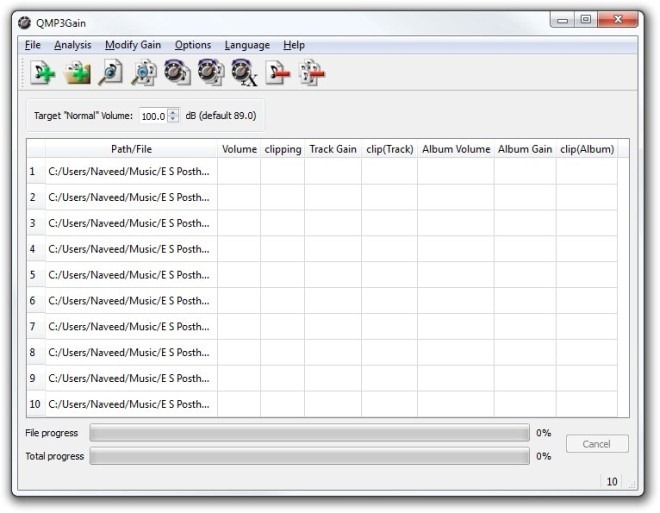 After that, click Track Analysis and Album Analysis on the toolbar (or under Analysis menu) back to back, depending on the type of volume normalization you want.
Upon completion, the application displays the result of analysis and lets you know about the amount of room available for gain, after the normalization process. For instance, Volume displays the original decibels of the selected tracks, while Track Gain is the difference between actual volume and gain volume. The tool also lets you know about audio clipping. Clipping refers to the distortion in sound that occurs if an amplifier is overstepped, so it's more effective to avoid it if you want less sound noise. The tool displays the statistical data of tracks for both individual and album gain.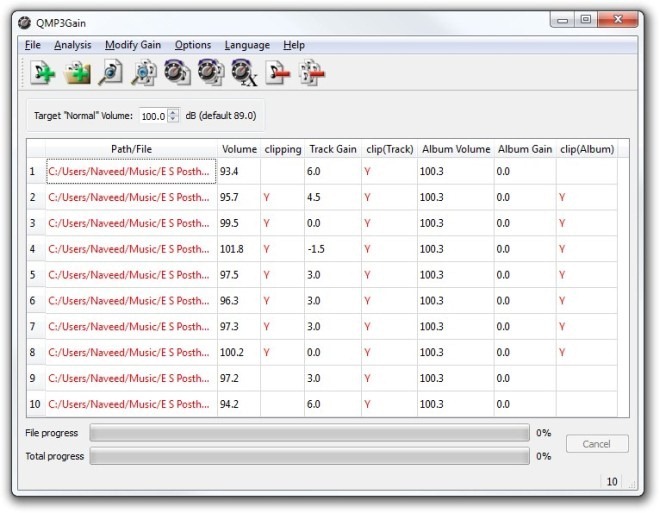 The application also has an Options menu which houses various parameters, which, if used, should be applied before the sound gain, since the tool overwrites the original file. For instance, you may preserve date and time amidst the gain process, avoid clipping, or avert Layer I or II check. Other configurations in Options are rather there for aesthetics purposes. Once you have configured the settings, simply select gain type (Track Gain, Album Gain, Constant Gain) from Modify Gain menu to employ the effect.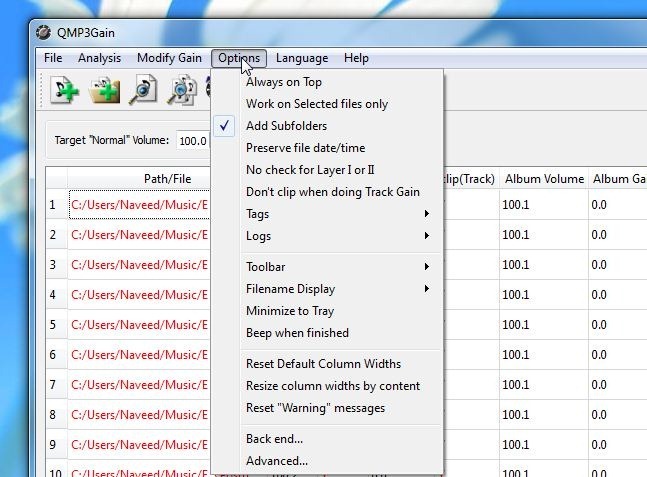 Should you want a unified amount of gain for all tracks, try selecting constant gain. Constant gain also lets you select individual audio channels wave (left or right) where seemingly the volume gain is required.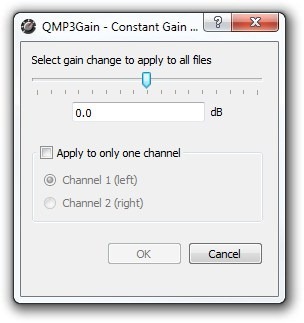 Overall, QMP3Gain is a feature-rich application with simple and easy to use UI. It works on Windows XP, Windows Vista, Windows 7 and Windows 8.