Readiy Is A Full-Featured Feedly Client For Windows 8 & RT
To many RSS fans, it seemed like the end of the world when Google initially announced that it would be shutting down its Google Reader service in July. However, a zillion new alternatives have emerged since then, sporting a variety of features and functionality. Fortunately, Google was kind enough to offer a Takeout option for migrating your existing RSS feeds to a new home. Feedly has been cited by many as the best alternative to Google's variant so far, thanks to its loads of options and a similar-looking UI. Besides its minimalistic web interface, Feedly also offers iOS and Android apps. Though its Windows 8 counterpart is still missing in action. Readiy is a new Windows Store app that successfully brings the power of Feedly to Windows 8 and Windows RT while being loyal to the platform's Modern UI. The app syncs with Feedly, meaning you don't need to maintain yet another feeds list.
Since Feedly launched its own cloud early in July, it means you can directly sign in with the service. To begin, launch the app and let Readiy connect to Feedly by clicking 'Sign Up with Google' or 'Sign in'.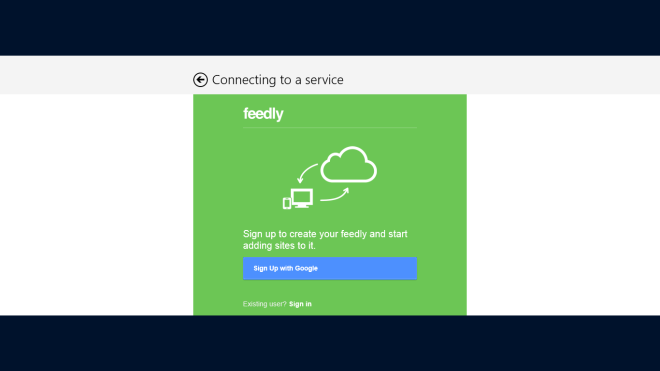 The tile-based design of the app is very intuitive, making it easier to navigate on RT and Windows 8 slabs. It's exceedingly simple and lets you handle your feeds with ease. The home screen displays all the items from your currently subscribed feeds. To reveal further content, just swipe horizontally. You can also hit 'All Items' on the top and then select your desired RSS subscription from the menu that appears.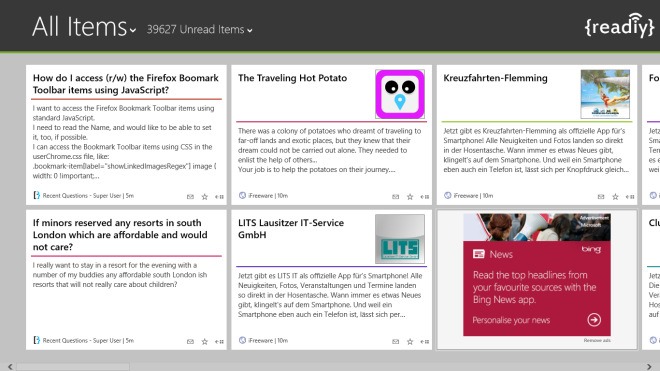 The dropdown menu displays titles of your current RSS subscriptions accompanied by the number of unread items in each. Readiy also keeps your custom folder structure from Feedly intact. The dropdown menu next to your subscriptions lets you sort the view between oldest or newest first and also mark all the items as read in one go.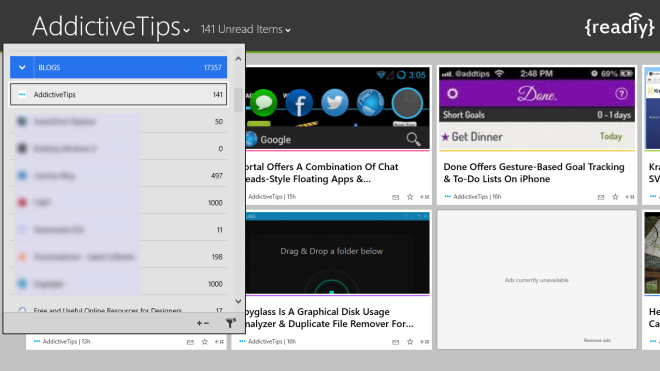 The app bar gives you a few more options to play with, such as letting you Pin any feed to your Start Screen, filter your feeds, mark all feeds as read, and manually sync with Feedly servers.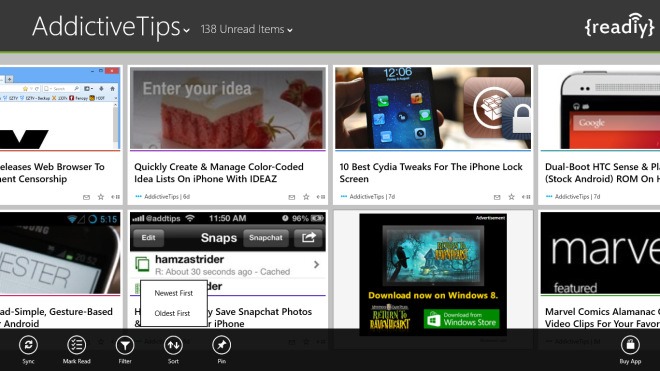 Click or tap a feed to see the underlying story in a clean and simple layout. It's good to see that the integrated reader does a great job of rendering text and images. The navigation controls that appear at the top allow you jump to the next or previous feed in the current subscription, Star them, keep them unread, and send them to Readability.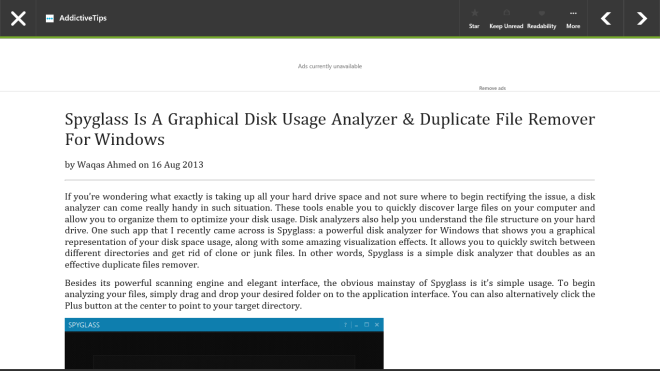 The More button in the top navigation bar lets you tweak a few settings such as reading mode, theme, font size, text alignment, share/bookmarking options, font style, margins and links opening behavior.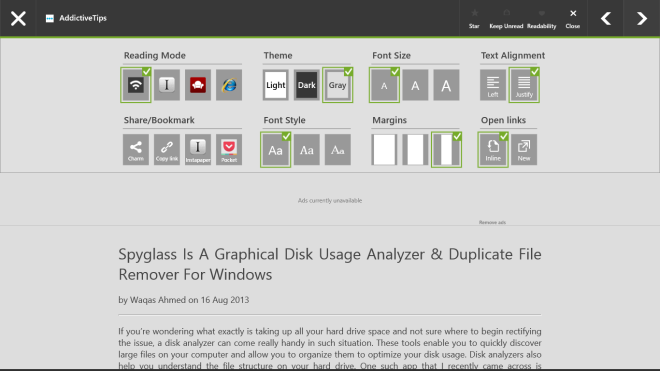 The only shortcoming we found with Readiy is that it doesn't give you any option to add new RSS subscriptions, meaning you'll have to do that from Feedly's own web interface or its dedicated apps for other platforms. Apart from that, it's a solid Feedly client for Windows 8.
Install Readiy from Windows Store