Recover Outlook Email Attachments
OLK Finder is a free tool that can help you recover accidentally deleted attachments. MS Outlook creates a temporary folder and saves the attachment over there as an extra precaution. This tool can be used to recover any temporary attachments that are stored inside this temp folder.
Since it is a portable tool, all you need to do is extract the zip archive, run the executable file, and select the Outlook version. It will display all attachment files in a simple list view. You can then copy them to a safe location. There are two buttons give on the right side, Explorer will take you to the main temp folder where all attachments are stored, and Select All helps you in selecting all attachments.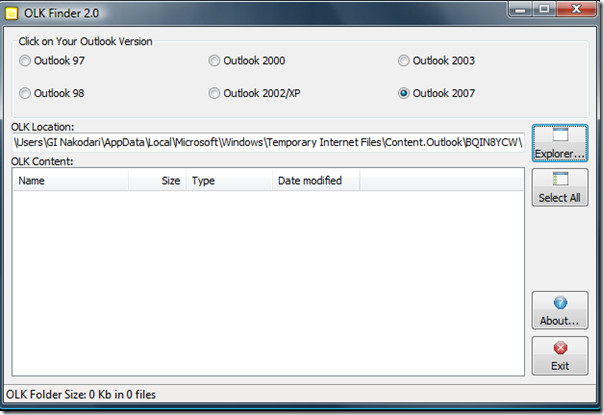 If you don't see any attachments, it means any one of the following:
You have selected the wrong Outlook Version
MS Office Outlook is not installed
MS Office Outlook is not in use
No secured attached file was open from MS Office Outlook yet
A Cleaner utility was running and deleting the internet temp files
It works with all Outlook versions upto 2007. Since Outlook 2010 is similar to 2007 in many ways, it might work with it as well(as long as Outlook 2007 version is selected from the app). Enjoy!