How To Remove A Device From A Mobile Hotspot On Windows 10
Creating a mobile hotspot on Windows 10 is easier than it has ever been on any version of Windows. There's a handy little toggle in the Action center that lets you turn it On and Off with a click. In order for devices to connect to your hotspot, you have to give them the password to it. By default Windows 10 auto-generates a password for the hotspot so that you never skip the step. Once you give the password to someone, they can connect to your hotspot whenever it is On. You can't exactly block a device from connecting to it if it has the password however if you want to remove a device from a mobile hotspot, you can. You just have to be a little creative.
SPOILER ALERT: Scroll down and watch the video tutorial at the end of this article.
Remove Device From Hotspot
To remove a device from a mobile hotspot created on a Windows 10 desktop, you have to change the password to it. When you change the password, the hotspot, like any other wireless connection will ask the devices connected to it to enter the password again.
To change the mobile hotspot password, you should first turn the mobile hotspot off. Next, open the Settings app and go to the Network & Internet group of settings. Select the Mobile Hotspot tab, and click the Edit button under the network name, password, and band section. You can change the password to anything you want. Once the password has been changed, turn the hotspot back on, and share the new password with the devices that you want to allow.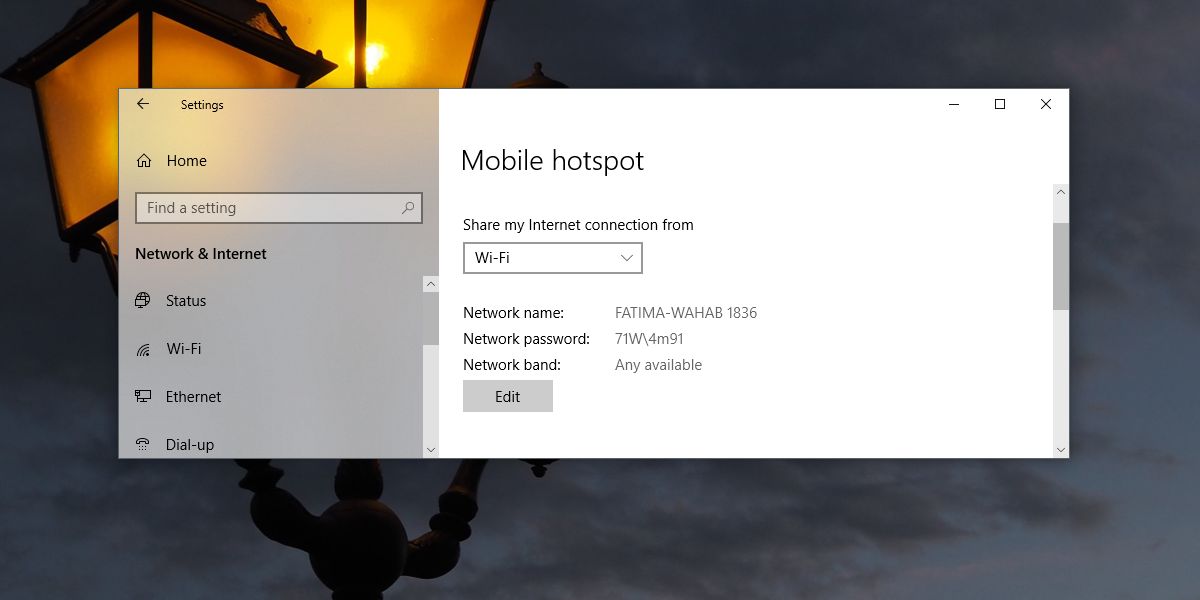 There's no option for blacklisting devices so this is the only way you can kick a device off a mobile hotspot you've created on your desktop.
One other option is to change how devices connect. By default, the hotspot allows devices to connect over WiFi. If the devices you want to allow to use the hotspot are paired with your desktop via Bluetooth, you can allow them to connect over that instead.
This will not only limit the connection to paired devices but it will also give you an easy way to remove a device from a mobile hotspot. On Windows 10, you can choose to unpair a device whenever you want. The device doesn't need to approve the unpairing so you have complete autonomy over it. It's also a bit more secure and Bluetooth does have less range compared to WiFi so there are quite a few good reasons to prefer a Bluetooth connection over a WiFi one.