How to Reset the Network Adapter on Windows 10
Problems with the network adapter can keep you from connecting to the internet, and from accessing the LAN. Network adapters can be easily configured by end-users; some apps also tend to modify network settings. And while apps don't necessarily tell you what they're changing and users assume the changes are necessary and harmless.
They are harmless for the most part but only while the app that has made the modifications is running, or handling everything. There are a lot of settings that go into establishing an internet connection and when they're changed to the point you can't connect to the internet, it's best to just reset the Network Adapter.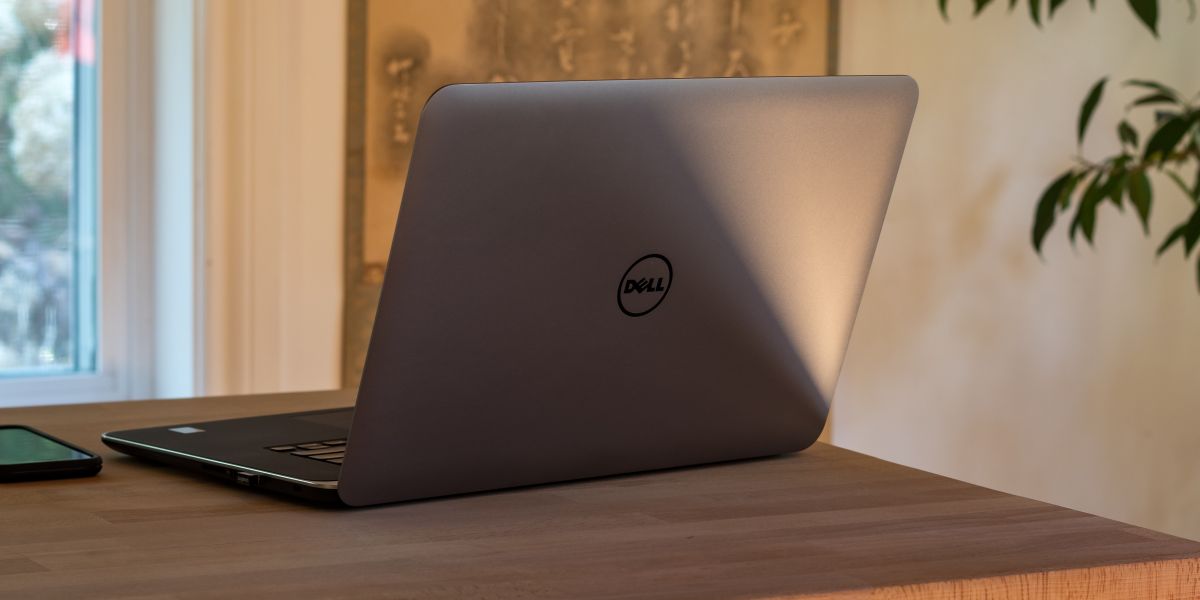 A few things about the Network Adapter
The network adapter is a hardware component on a PC/Laptop that connects users to a network. Its specifications determine the maximum transfer speed you can get. It works with both wired, and wireless networks which means that when you connect to LAN and/or a WiFi, the hardware is what is used to establish both types of connections. This means that problems with both wireless and LAN networks may be resolved by troubleshooting the network adapter.
When it comes to troubleshooting a network adapter, there are two different types of solutions that you can try; resetting the network adapter, resetting network settings.
Reset network adapter vs reset network settings
Resetting a network adapter is a lot like turning your PC Off, and then On again. When you do so, anything that's in the PC's volatile memory is lost but your settings are untouched, as are your files. When you reset the network adapter, it resets all network components on your system but does not forget your IP or DNS settings, nor does it forget any saved connections.
Resetting network settings is different; it basically involves flushing your DNS, clearing the cache, and getting a new IP address for your computer. Both a network adapter reset and a network setting reset can fix connectivity problems as well as problems with slow network transfer speeds.
How to reset network adapter on Windows 10
You can reset the network adapter on Windows 10 using the following methods. You should restart your computer before you try either one of the following fixes.
Settings app
You can reset the network adapter from the Settings app;
Open the Settings app.
Go to the Network and Internet group of settings.
Select the Status tab.
Scroll to the bottom, and select the Network Reset button.
Restart your computer when prompted to.
When you're back on your desktop, give Windows 10 time to reinstall everything and then try to connect to your network.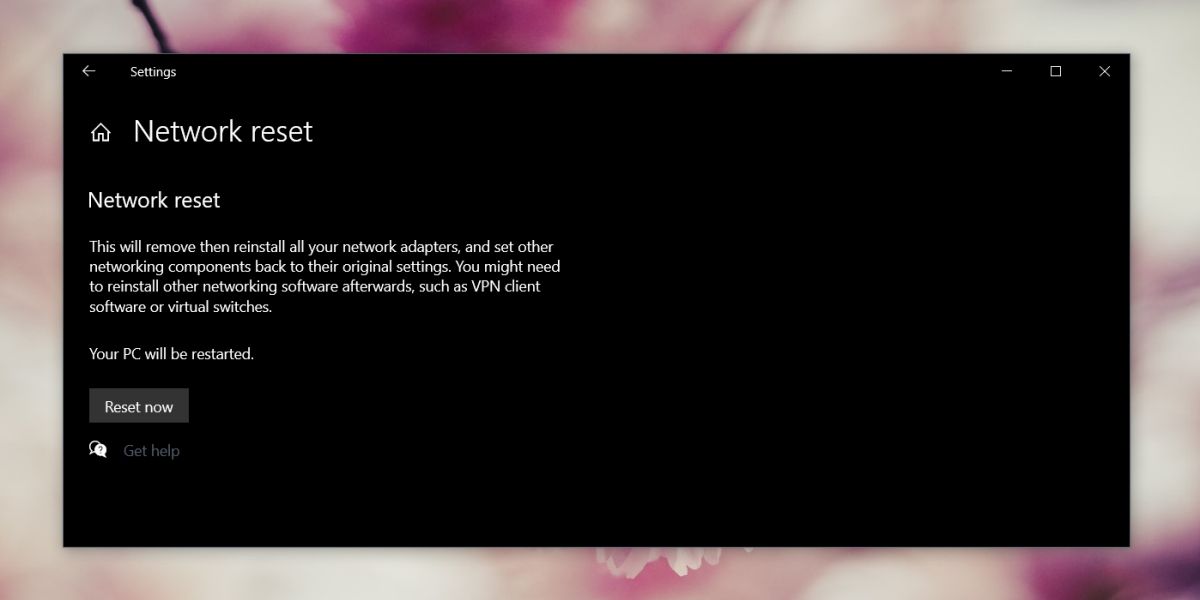 Device Manager
You can manually reset the network adapter by uninstalling the drivers for it.
Open the Device Manager.
Expand the Network Adapters group of devices.
Right-click the network adapter that you want to reset, and select Uninstall Driver from the context menu. You will likely have to do this for more than one device listed under Network Adapter. Do it for all devices you need to connect to the network.
Restart your PC and allow Windows 10 to automatically install drivers again.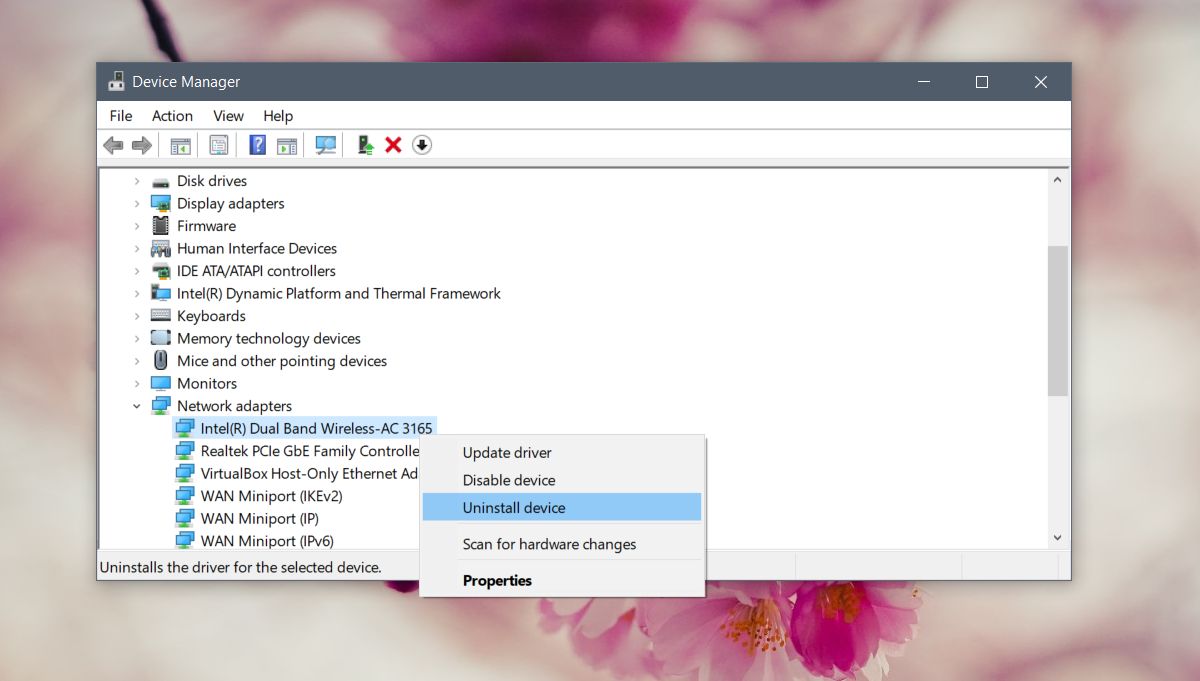 Command Prompt
Open Command Prompt and run the following command.
netsh interface set interface "wireless network adapter" disable
Restart your PC. Open Command Prompt again, and run the following command.
netsh interface set interface "wireless network adapter" enable
Restart your PC
Reset network settings on Windows 10
In order to reset network settings, you need to follow the steps below.
Open Command prompt with admin rights. Run the command below and restart your PC.
netsh winsock reset
Open Command Prompt and run each of the commands below, one by one.
netsh int IP reset

ipconfig /release

ipconfig /renew

ipconfig /flushdns
When you've run all the commands, restart your PC.
Troubleshoot Network Adapter on Windows 10
Generally speaking, the above fixes should resolve connectivity problems on your Windows 10 PC however, if you still experience slow speeds, lag, or intermittent connectivity problems, you can always use the network troubleshooter.
Open the Settings app.
Go to the Network and Internet group of settings.
Select the Troubleshoot tab.
Scroll down and run the Network Adapter troubleshooter.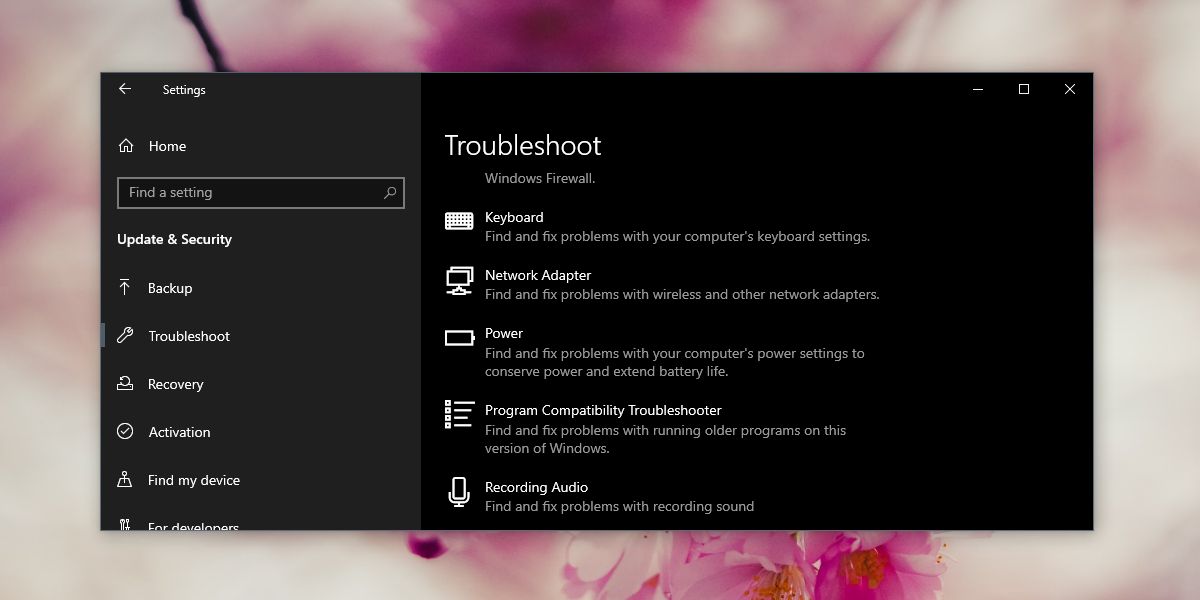 A few other things you can try if you're having trouble with your network;
Remove all VPN apps that are installed, or disable them.
Check with your ISP if there is a network outage.
Check for firmware updates for your router.
Check if a cable that leads to your router might have come loose.
Try moving closer to the router so that you get a stronger signal from it.
Remove/forget the network you're trying to connect to, and add it again.
Which one worked for you?
The above are general fixes that can resolve most problems with network connectivity but there may still be niche errors that you experience that may require a closer look.
If your system is part of a domain e.g., a work laptop, and you're using it at home to connect to your home network, it is possible that your domain settings are blocking the connection. You will need to talk to your system admin to resolve the problem.