Resume Windows 10 Download After It Fails From The Media Creation Tool
The Windows Media Creation tool (link inside) released by Microsoft serves two purposes; it lets users who were unable to reserve a copy of Windows 10 force download Windows 10, and it lets users create a bootable DVD or USB for Windows 10. That said, what the tool essentially does in one form or the other is download the necessary files (about 3.5GB worth if you're downloading the 64bit version) needed to install Windows 10 to your system. Regardless of how fast an internet connection you have, if your download fails you don't want to have to sit through all of it again. Here's how you can resume it and save yourself some time.
First, make sure you can see hidden files and folders on your Windows 7 or 8/8.1 installation. Go to C:\$Windows.~WS\Sources\Windows\sources and look for the setupprep.exe file.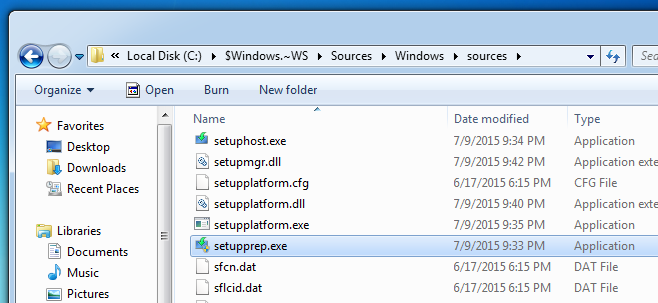 Run this file and the Media Creation tool will once again start downloading Windows 10 but from where it left off and not from the very start.
Even if you have a lightening fast internet connection, consider that a lot of people (and I mean a lot) are downloading the new version so there's bound to be quite a few failed downloads on account of network errors or the servers just not being able to keep up with the many download requests. Hopefully, this will smooth the transition and upgrade for you just a little bit.
Download The Media Creation Tool From Microsoft