Save, Extract, And/Or Remove Attachments From Microsoft Outlook
Outlook Attachment Remover is a free add-in for Microsoft Outlook that lets you remove, save, and extract attachments from emails. If you are receive frequent attachments, you can extract them all to a folder and/or remove them from the emails. What makes this add-in unique is it's ability to replace the attachment with a link to the file.
Before installing this add-in, make sure that Outlook is not running. Now install the add-in and launch Microsoft Outlook. A small Attachment Remover window will pop-up, you can position it wherever you like by dragging it around the screen.

Now go to any folder or email from where you would like to extract the attachments and click Attachment Remover button in this pop-up window. Note that if you select a folder and click Attachment Remover, all attachments inside the emails in this folder will be downloaded.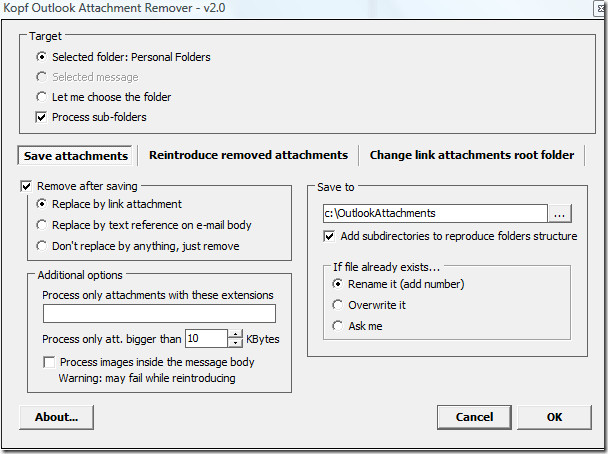 You will see some options before you can continue to actually download the attachments. You can choose to remove the attachments from the emails after saving them, only download attachments with a defined extension, choose destination folder where the attachments will be saved, overwrite/rename the attachment if duplicate is found in the target folder, etc.
One thing that makes it stand out from the rest is it's ability to replace the attachment by link(if you choose to remove the attachment after saving). In this way you can click the link and it will open the attachment directly. Enjoy!
Editor's Notes: If you don't want to install any add-in and simply want to find, browse, and extract the attachments then have a look at this guide to download email attachments.