How To Screenshot on PC (Windows 10) – Quick Guide
We don't really have any statistics to prove this, but we can only assume that most PC users need to take screenshots on their Windows 10 every now and then.
Whether you want to show something funny happening on your PC to a friend, remember an important piece of information, or even create image tutorials for online publications, you need a screenshot tool to help you out.
You can even extract text from screenshots if you're equipped with an image editor that supports OCR technology.
Screenshot Windows 10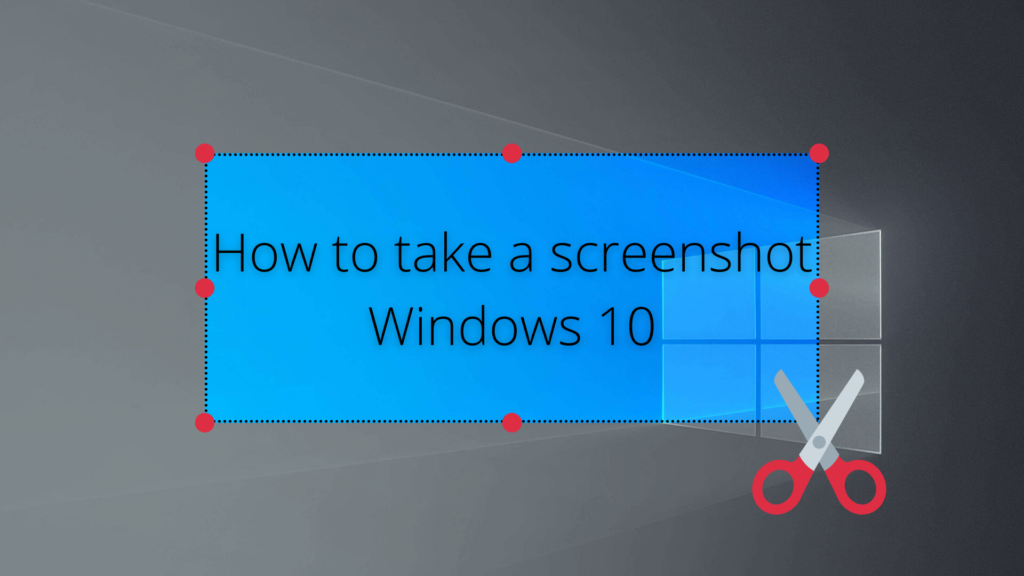 Thankfully, Windows 10 has integrated support for image snapshots. In fact, there are multiple ways to grab your computer screen on Microsoft's operating system system, and we'll show you how.
Some prefer using Command Prompt to capture the screen, but we're going to take a more practical approach and focus on easier methods that come with a graphical interface.
How to Screen Capture on Windows 10
1. Use the Print Screen key
Take a look on your keyboard and search for a Print Screen key. It's usually found on the top row, among the functional keys. But you could also spot it near the Home button or even on your numpad, depending on your keyboard manufacturer and model.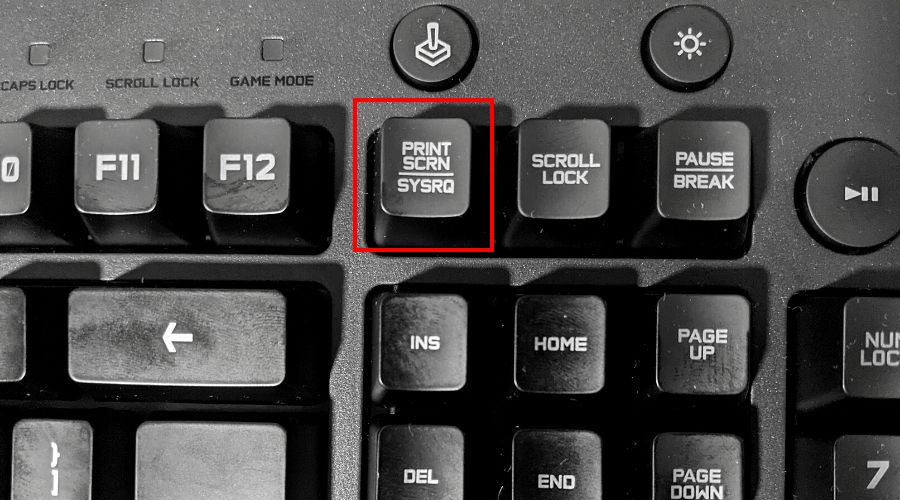 Where do screenshots go?
Press Print Screen to capture the entire desktop. Windows 10 does not give you any sign that it copied anything. However, you can open an image editor like Paint or Paint 3D to paste the image.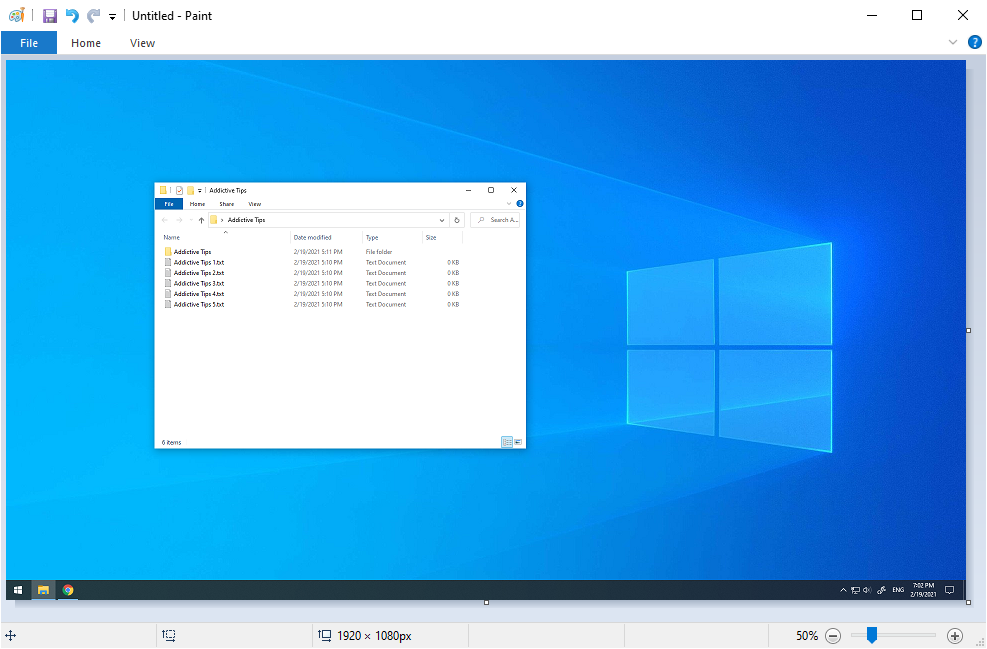 If you hold down Alt while pressing Print Screen, you will get a screenshot of the active window window instead of the full screen.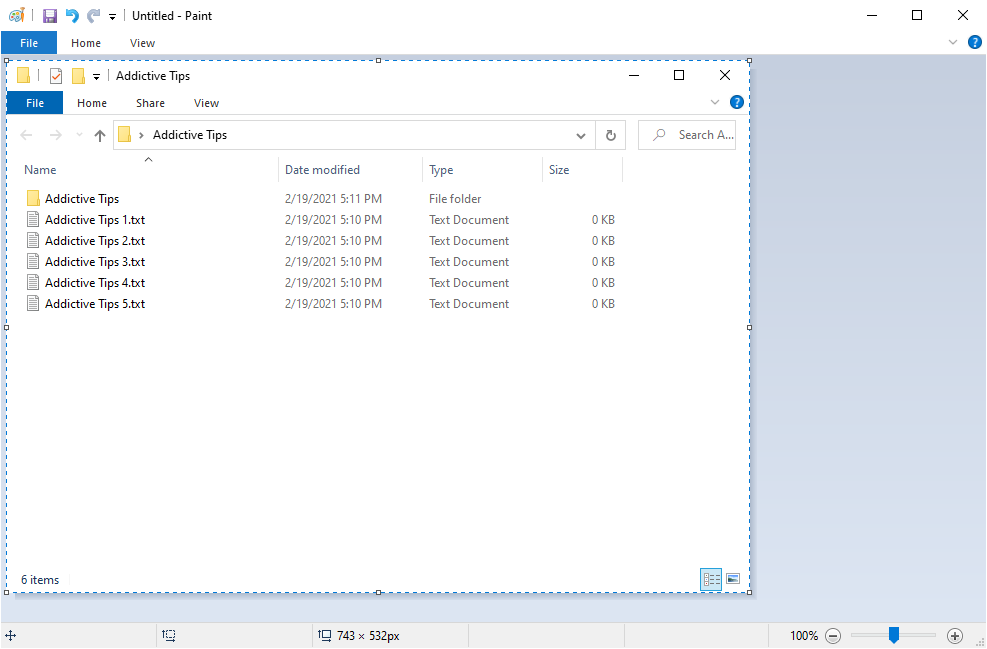 It's a great and simple way to focus on a single application instead of wasting time in a photo editor trying to cut out unwanted parts of a fullscreen image.
2. Use the Win + Print Screen key combination
Holding down the Win key and pressing the Print Screen key achieves similar effects as in the previous method, with two major differences.
Firstly, you can actually tell that you're taking a snapshot because the entire screen dims temporarily.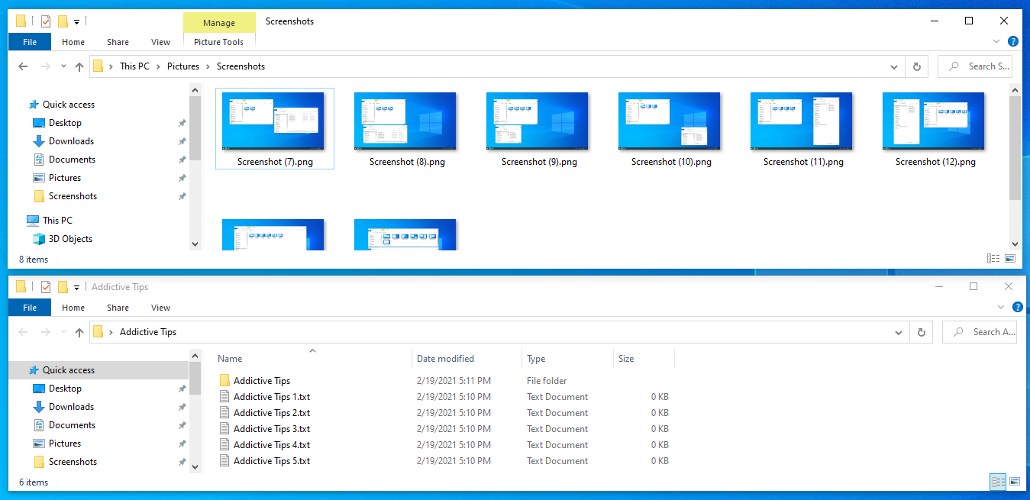 Where are screenshots saved?
Secondly, the fullscreen images are automatically saved on the disk. You can find them in Pictures > Screenshots. It's possible to change the default location from the Properties > Location section.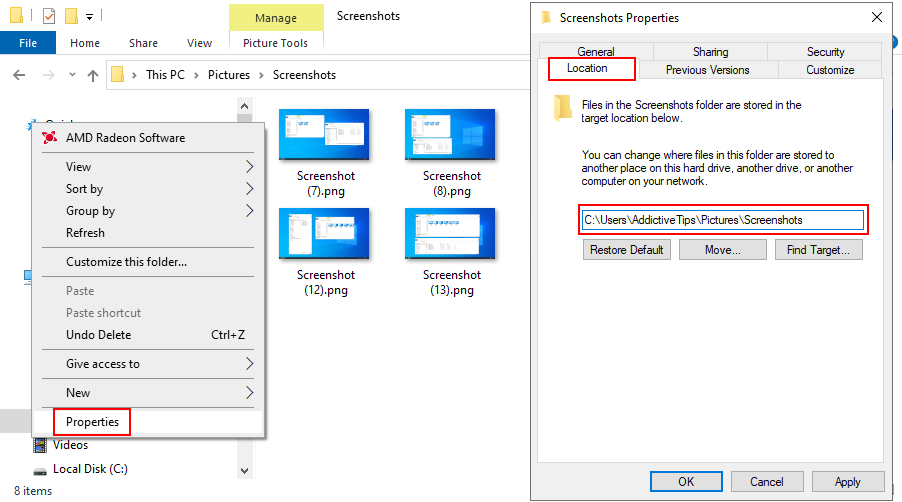 But the captured picture is also copied to the clipboard, so you can still open an editor, paste the image, and proceed with editing it if necessary.
Compared to the previous mode, using the Win + Print Screen key combination is ideal when you have to take multiple screenshots in a hurry and don't have time to manually save each one to file.
3. Use Snipping Tool
Snipping Tool is a special utility that was implemented into Windows 7 to help you take screenshots. And it's still available on Windows 10. Besides capturing the full screen and active window, you can also use it to create a free-form or rectangular snip.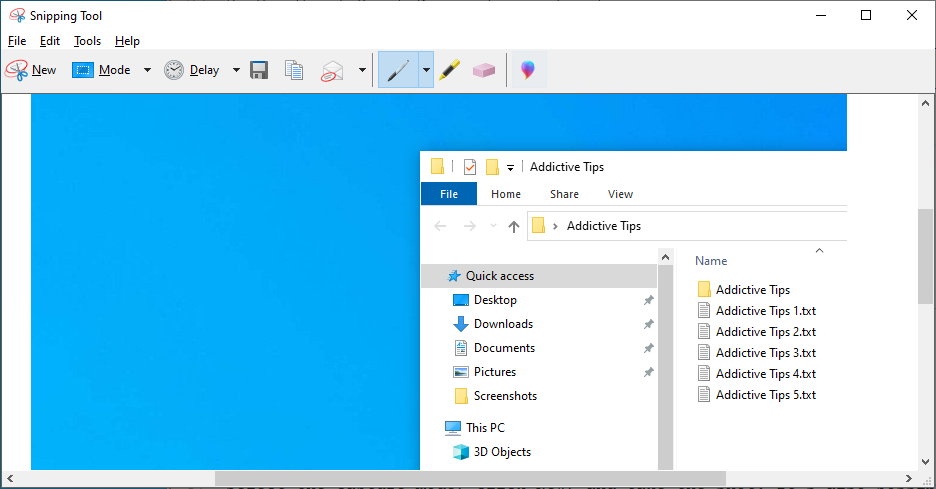 Select the capture mode, click New, and take the shot. It's also possible to specify a delay time (up to 5 seconds).
You can save the snip as a PNG, GIF or JPG file, copy it, or send it in an email attachment. Before doing so, you can draw on the image with a pen or highlighter to point out important parts you want to shift the viewer's attention to.
4. Use the Xbox Game Bar
Xbox Game Bar is another feature built into Windows 10. It's specially made to help you take screenshots and record videos while playing games or working with fullscreen applications. You can quickly call it by pressing the Win + G hotkey.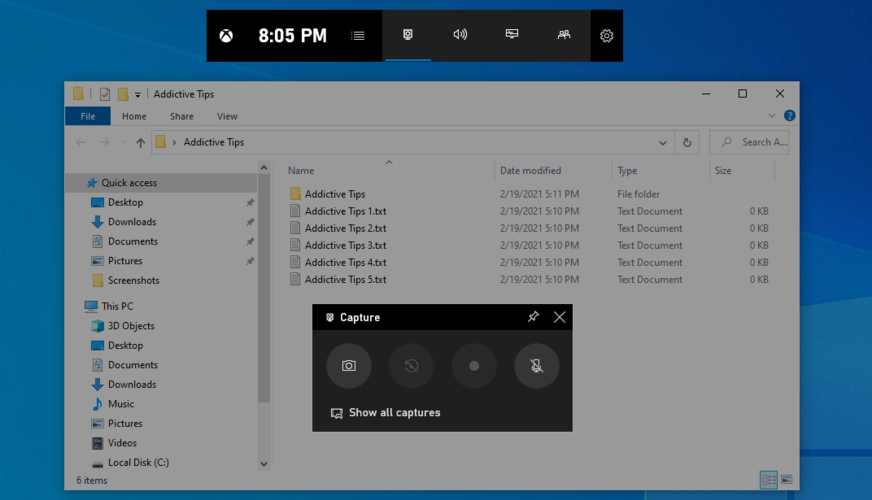 Or, you can directly use the Win + Alt + Print Screen key combination to capture the entire screen. It will be copied to the clipboard, so you just have to open an editor, paste the image, and save it to file.
5. Use GreenShot
If you want more control, like scheduling screenshots, you can turn to third-party software tools. There are numerous options on the web, but we think that Greenshot is one of the best in the business.
Greenshot is completely freeware. It has multiple capture modes, such as full screen, active window, custom region, or last region.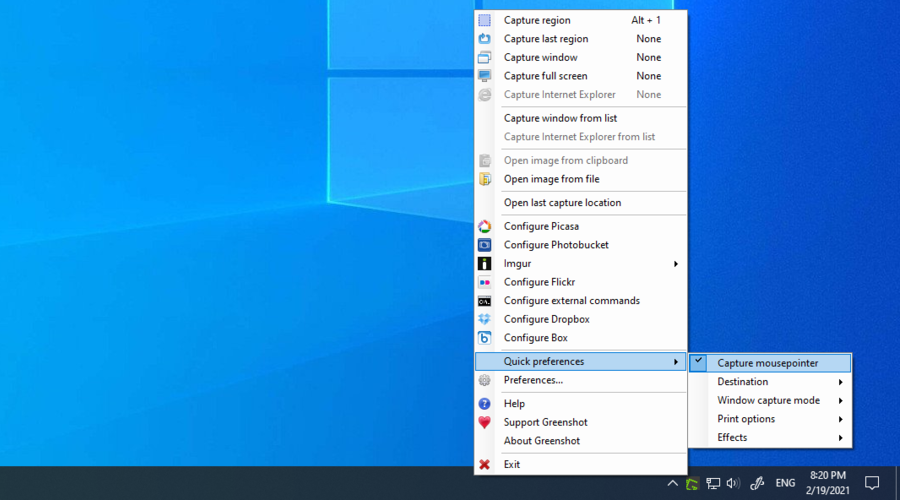 You can configure hotkeys, save screenshots as local files, as well as upload them to image hosting services like Imgur, Photobucker, Flickr, or Dropbox.
What's more, you can include or exclude your mouse cursor from the images, preserve window transparency, and even print the pictures in black and white or with inverted colors.
Conclusion
To summarize, you can easily take screenshots on your Windows 10 PC by using the Print Screen key or by activating Print Screen while holding down Alt. It's even possible to take screenshots of apps that block this feature.
But you can also use the Windows 10 Snipping Tool or Xbox Game Bar. If you're looking for more control over your screenshots, though, it's a good idea to turn to a third-party reliable application such as GreenShot.
Did we miss out anything important? What's your favorite way to grab snapshots on Windows 10? Let us know in the comment section below.