Select Multiple Picture Folders For Windows Desktop Wallpaper Rotation
The Desktop Background section of the Personalization dialog box in Windows allows you to change your wallpaper with different options, such as the Picture Location (you can navigate to image folders for using them as wallpapers), Picture Position (specify the position of image on the desktop from Tile, Stretch, Center, Fill etc), Time interval to change the background image, and some other options. Even after all those options, there are still some things missing. For instance, if you want to add two or more image folders to change the desktop background from, no default option allows you to do that. You have to manually copy all the images into a single folder and select it in the Picture option of the Desktop Background settings. Today, we have an application for you called Desktop Background Tuner that lets you change some non-existent features of the Desktop Background by accessing some hidden registry entries. It lets you add and remove multiple folders and access them as one location in the Picture Location option, create separate groups for different images folders, sort images by different criteria, such as sort by file author, sort by file extension, sort by file name, sort by file date etc.
The main interface of the application has Add Group, Edit Group, Delete Group, Add Folder, Delete Folder and Show in Registry Editor buttons at the top, the added Groups and Folders appear in the middle, while options to change the Desktop Slideshow Animation Duration, Delete Locations Cache, and Restore Defaults are available at the bottom.
When you run the application for the first time, it will have one group by default, and some folders will be already available in it. If you want, you can delete these stock folders by selecting them from the list and clicking the delete button at the top.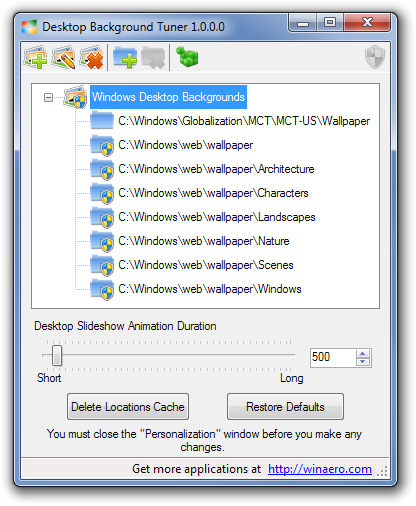 You can create new groups and edit already existing groups. When creating a new group, the program allows you to choose the criteria for grouping the images in it. Available options include Folder Name, Author, Comment, Date, File Extension, File Name (Actual), File name (as it looks in Explorer) and MIME Type.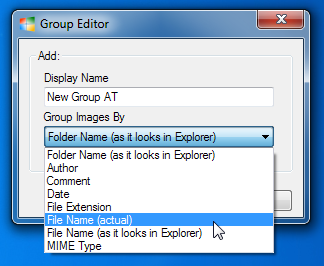 Once added, you can view the newly created group in the Picture Location drop down menu in the Desktop Background dialog box. Select it to choose and rotate between all the images in the group.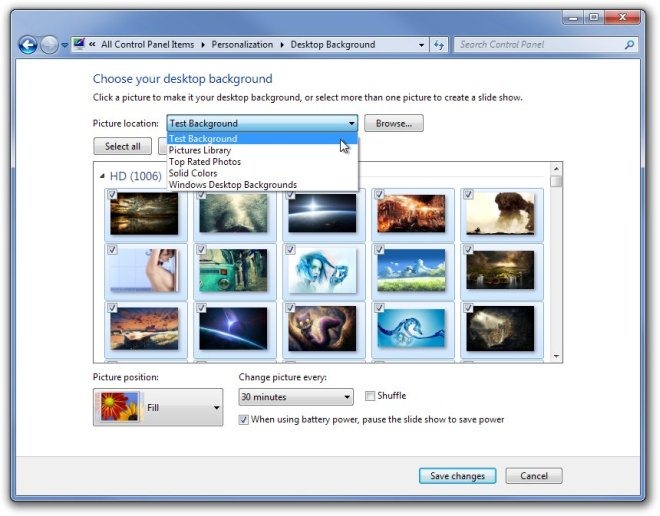 Desktop Background Tuner works on both 32-bit and 64-bit version of Windows XP, Windows Vista, Windows 7 and Windows 8.
Download Desktop Background Tuner