SelfRestraint: Block Websites For Up To 24 Hours, View Countdown Timer
There is nothing worse than wasting your time during some important work. An interesting fact, its human nature that whenever we are doing something of great importance, something else continually tries to distract our mind, which can be a simple wish or something bothering us. Same holds true when your working on your computer. For instance, your boss has given you an important task but your mind is lurking on YouTube or 9gag. To combat such situation, FocalFilter is a website blocking application to avoid getting distracted with time wasting websites while working. When we reviewed it back in January, albeit it worked flawlessly, it had only a limited number of time presets to block websites. Today, we discovered an alternative solution simply labelled as SelfRestraint. It is an open source application developed by Parker Kuivila, which takes care of the problem by providing you with presets of 15 minute intervals for blocking websites, starting from 15 minutes, to up to 24 hours 45 minutes. Once you set the block, a countdown timer will be triggered and automatically pop up, allowing you to monitor how much time is left before the websites will be available again. More on the application after the jump.
The application has a very simple and schematic interface design, allowing you to block time wasting websites without any hassle. The adjustment slider allows you to choose timer for blocking websites via dragging it left or right. The range starts from as low as 15 minutes to 24 hours 45 minutes with 15 minute intervals. Just set the slider, and click Start to block all the websites included in your Block list.

Click Edit Blocklist and you will be introduced with a separate console window. The block list can be easily edited by entering the URLs of the websites you want to block. It should be noted that you need to enter one URL in each line to add the websites. There seems to be no limit on how many website you can add. Do remember to click Done when all websites are added.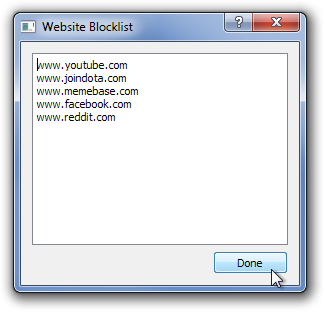 Once you block the websites, a timer will pop up, allowing you to monitor how much time is left before the blocked websites are available again.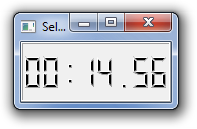 Despite its small design, the application flawlessly performs everything advertised by the developer. It is a cross-platform application, and works on Windows XP, Windows Vista, Windows 7 and Linux. Testing was done on Windows 7 Ultimate 64-bit edition.