Set Name & Date Filters To Delete Old Files & Folders Using Autodelete
With each passing day, more and more files are downloaded, copied and moved in your computer. Usually what happens is that there is a huge influx of these files, but no outflow. Either we are too busy, or too lazy to get to cleaning our computer of all the junk files and empty folders that get created with time. Not to mention the files that are stored in multiple locations inside our computer, taking up valuable space and cluttering the hard disk. Not only does it make hard for you to find a file or folder, it also slows down the search process of your computer because the system has to look in more locations for locating the file being queried. Autodelete is an application by Cyber-D that can automatically delete old files and folders for you.
The application allows you to delete old files from selected folders and their subfolders. It also provides you with folder-specific options, allowing you to configure when, how and which files to delete from each folder. The customizability includes options to select Name filters, Date filters and Delete options separately for each folder. To clean folders, select a folder, add name filters, set the date and time rules, choose how to delete, and select Save.
For instance, if you want to clean your downloads folder, select it from the Add folder button, add filters for deleting only the document and image files, set the time rules to delete files older than 20 days, choose Move files to folder and include subfolders as delete options, and hit Save.
By default, the application performs the cleaning function only on system startup, so it doesn't stay open in background and interfere with the ongoing work. You can also run the cleanup manually. The application stores log files of everything it does, allowing you to monitor the files deleted or moved by Autodelete.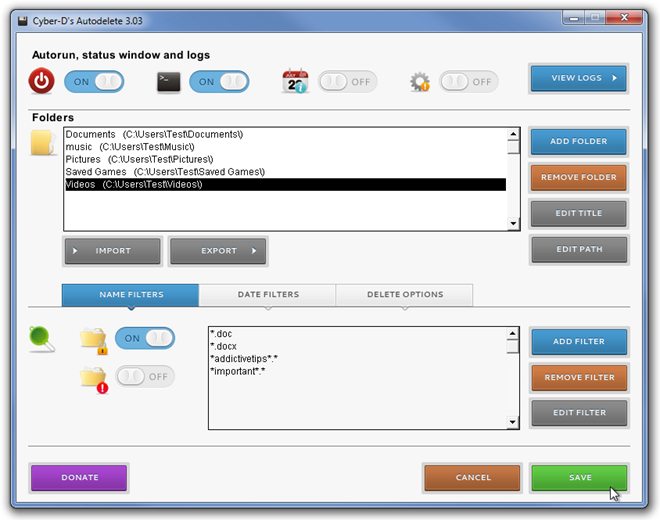 The filters provided at the bottom allow you to extensively customize the file and folder deletion process. The Name Filters tab allows you to add name filters for deleting or not deleting files containing a certain name in their title or with a specified extension. For instance, select *addictivetips*.* to include or exclude all files containing the word addictivetips in their title from the deletion process.

The Date Filters tab les you set the Year, Days, Hours and Minutes for deleting old files. The time limits can be set for the Created Date, Modified Date or Accessed Date of files.

The Delete Options tab lets you define what to do with a file during the deletion process. You can send the files to trash, secure the deleted files or move files to a user-specified folder. You can also choose to include subfolders and delete empty subfolders when the files are being deleted.

The ability to set the filters separately for each folder is very useful, but there should be an option to select the same filter for other folders without having to manually set everything up. The application also has a very annoying issue, that whenever you select an option from the Filters, all the options go blank, forcing you to reselect the folder from the top to access other options. Hopefully the developer will look into these issues, and try to come up with the solution. Testing was done on a 64-bit Windows 7 system, and the application supports 32-bit and 64-bit version of Windows XP, Windows Vista and Windows 7.