Share Wireless Internet Connection In Windows 7 Without Ad Hoc
Last year we explained how you can create your own wireless ad hoc connection in Windows Vista, the same steps are applicable in Windows 7 as well. Last month we covered a tool called Connectify which help turn your Windows 7 into a virtual WiFi HotSpot. Using Connectify was much more secure, faster, and easier than to simply create an Ad-Hoc Connection.
Today we found another great app called Virtual Router. Like Connectify it turns your computer into a virtual WiFi Hotspot allowing others to connect to your computer and use the internet. Virtual Router somewhat blends better in Windows 7 when compared with Connectify.
Just enter the Network Name, select a Password, choose the connection that you want to share and hit Start Virtual Router.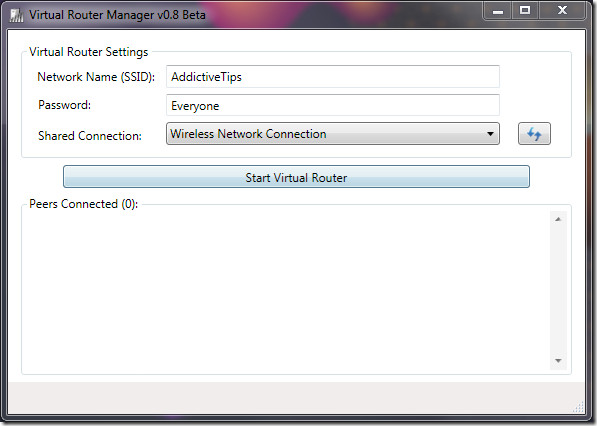 Once done, you will see all other computers that are connected to your WiFi under Peers Connected. The screenshot below is taken from developer's page.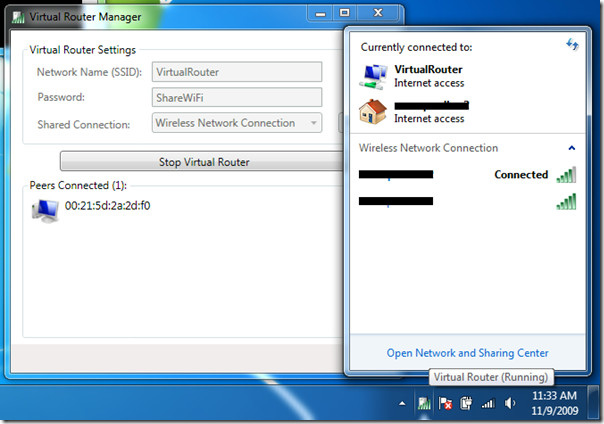 It works on Windows 7 and Windows Server 2008 only because they have a new build-in Wireless Hosted Network(also called Virtual WiFi) technology. It uses WPA2 Encryption which is part of Virtual WiFi technology to provide maximum security. This encryption cannot be turned off.
How is it different from Ad-Hoc? There are various reasons, Ad-Hoc is best suitable if you are connecting two computers and can be used to even share files, while using tools such as Connectify and Virtual Router only share the internet connection with multiple number of computers.
From the technical point of view multiple computers can connect to your ad-hoc connection but that will result in slower internet connection speed. Fully utilizing the build-in Virtual WiFi technology helps in faster connection.
The app is written on C# and is hosted at Microsoft CodePlex. Enjoy!