Shop At Amazon With The Official Windows 8 App
The story behind Amazon stretches back to the mid 90's when only a select few used this electronic medium for their purchases. It's an altogether different story now, as this E-commerce giant has become the world's largest online retailer boasting a massive product portfolio in its arsenal. The latest offering from Amazon is the brand new Amazon Windows 8 app. This Modern-UI app caters to Windows 8 and Windows RT users want to browse through Amazon's huge product catalogue and shop the products without launching the Amazon website in a web browser. It allows you to sign in to your Amazon account, browse products, and make purchases right from the app itself, in a completely metro environment.
To download the application, simply open Store from Start Screen and enter its name in the Search Charm. On the app's description page, click Install to begin the download process.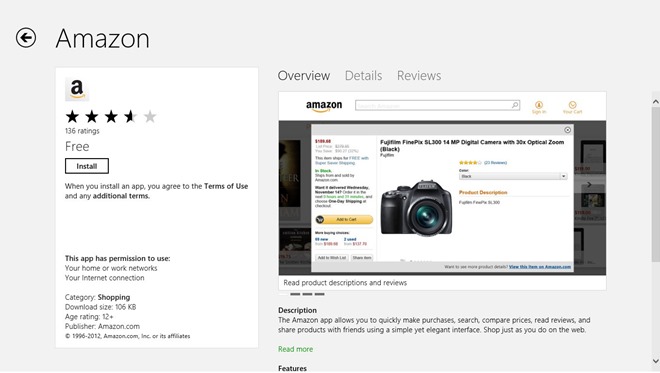 While the interface may not be as enticing as that of some other major Windows Store apps (Skype, anyone?), it's intuitive and easy to use nonetheless. The main screen is accompanied by the company's logo at the top-left corner, combined with a search bar. You're also able to access the featured products currently listed on the store. And then there's a recommendations section, which shows off the products currently popular among the customers. However, to be able to buy any item, you'll obviously need to sign-in with your Amazon account first.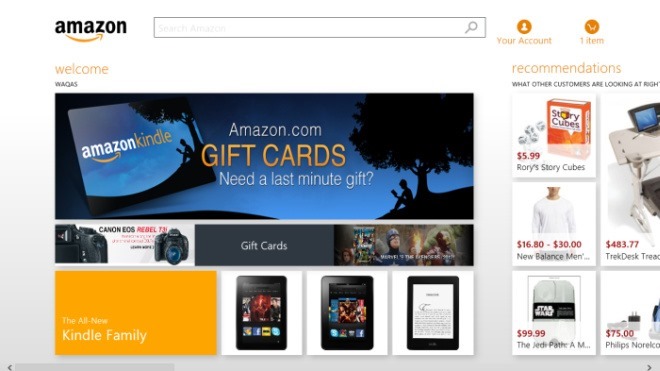 If you're unable to find your desired product by simply browsing through the catalogues, you can always use the search bar for the purpose. Simply enter your desired item's name, press enter and you're done. If the entered keyword matches multiple queries, all the results are displayed akin to what you usually see on the Amazon website. Following Windows 8's GUI design pattern, the app displays the results and listed items as tiles.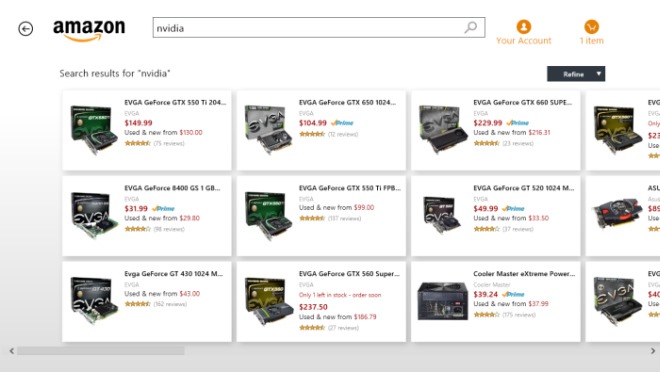 The product's description section pops up as a separate pane. You can check reviews, specs, prices, and other product related details here, or click the Add to Cart button if you decide to add it to your shopping cart.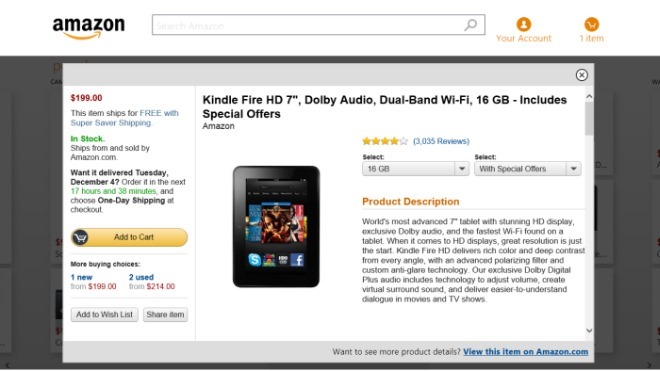 As you would expect from Amazon's official app, it also enables you to manage your shopping cart. You can add or remove items any time you want before proceeding to the the checkout. That said, you may also move the item to your wishlist via clicking 'Save for later'.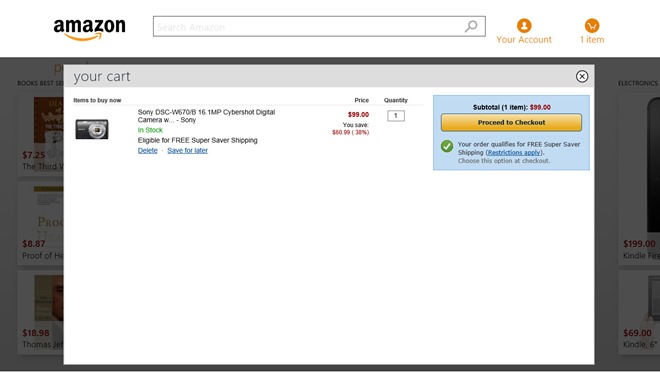 In terms of application-specific options, Amazon hasn't thrown anything to tinker with. Though you can easily change your country by clicking Settings in the Charms Bar while you're in the app interface.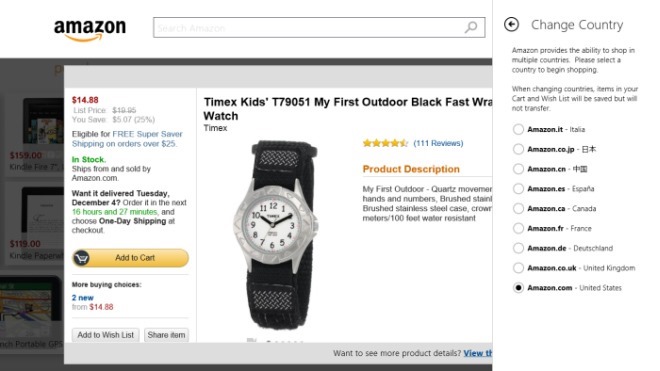 Amazon for Windows 8 is one of the best Modern UI apps that we've seen, which is equally rewarding for those who make frequent purchases from the store and want to keep the experience consistent on their computer. It works on Windows 8 and Windows RT. Testing was carried out on Windows 8 Pro, 64-bit.