Sigil – Complete eBook Editor With Full EPUB Format Support
In the past we have covered plenty of ePub Readers, Managers, Organizer, and Downloaders, but what about a full-fledged editor? Our popular Top 4 free ePub Readers post does not list any app that can edit eBooks in ePub format. Previously reviewed FBReader and Calibri are both strong readers and managers with the option to download eBooks online, but lack an advanced built-in editor.
Sigil is a multi-platform open source tool that is build only for one purpose – to edit eBooks in ePub format. With full Unicode support, ePub spec support, and WYSIWYG editing, along with a complete Metadata editor that supports all possible entries, Sigil can be considered an advanced editor for all eBooks. The feature list does not end here, it can edit the full table of contents, has multi-level TOC (Table of Context) support, SVG and basic XPGT support, can convert imported documents to Unicode automatically, and much more. At the moment, it can only import TXT, HTML, and EPUB files. The developer promises to add more formats in future releases.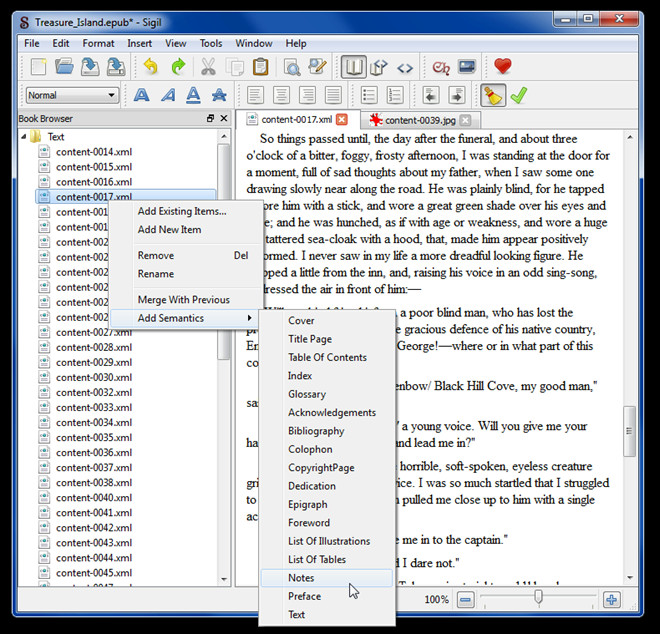 Being an advanced editor, it supports multiple views: Book view, Code View and Split View (showing both Book and Code). The Book View fully supports the display of any XHTML document possible under OPS specs. All new chapters, images, syles, and fonts can be accessed from the left sidebar which are opened in a new tab.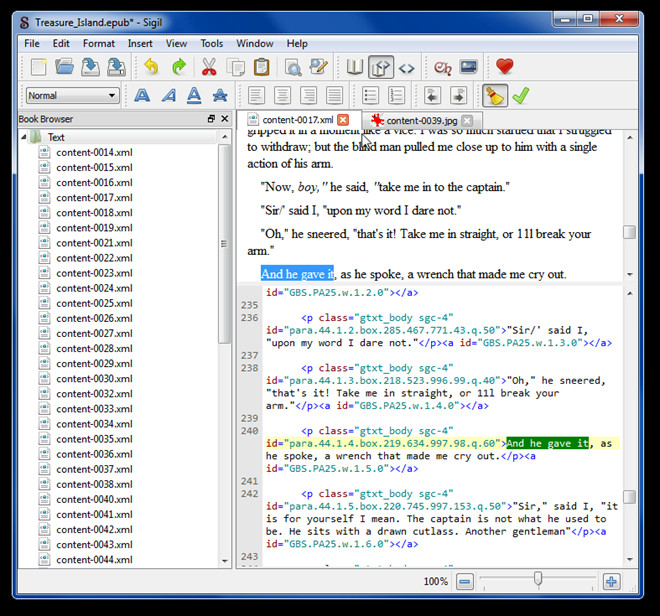 All imported documents are thoroughly cleaned; changing views will automatically clean up the document no matter how much you have messed up with the code. Chapter Break, Image, and SGF Chapter Marker can be added from the Insert tab. Meta Editor, TOC (Table of Context) Editor, and option to Split on SGF Chapter Marker can be accessed from Tools menu. You will also find options to clean up the document with HTML Tidy and Validate EPUB.
Overall, Sigil is useful eBooks editor which, as the developer likes to put it, has an actually usable user interface. Grab the Windows, Linux, and Mac version from the product page. Our testing was done on Windows 7 x64 system.