Simple CSS Is Brilliant GUI-Based Cascading Style Sheets Editor
Editing documents' styles written in markup language (HTML/XHTML, etc) is easy, once you get the hang of CSS language syntax. Even though understanding classes defined in CSS (Cascading Style Sheet) is not difficult, still many users find it challenging to edit document styles and formatting defined in CSS file. Simple CSS is out to simplify the creation and modification of external CSS files. The application is written for both novices & advance users, since it display all the CSS classes in a sequence, web developers would find it useful in quickly locating the class to edit its attributes whereas beginners wont need to learn language syntax, as it offers pull-down menus for each type of style to define the respective attribute value.
With Simple CSS, you can either start off with a new project to create a CSS file right from the scratch or import an existing CSS file to change the styles and formatting. However, the real usage can be observed when you need to edit previously written CSS file – just import a CSS file, and start editing the CSS classes in the same order as they are called in respective HTML file.
The left sidebar contains all the classes of the CSS file, the main window contains extensive options to customize Text, Display, Borders, Dimensions defined in selected class. There are many pull-down menus available to let you easily change the attributes and to enter new values.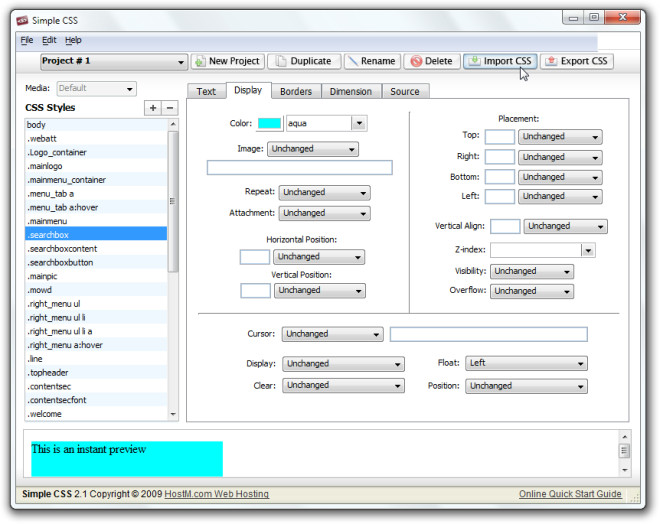 To create a new CSS file, click New Project, enter appropriate name to start working on new CSS file. The application also enables user to create a duplicate file on the fly to keep original file safe. Once you've edited the CSS file, just click Export to save the file.
The application worked successfully while testing on our Windows 7 x86 system. It supports Windows XP/Vista/7 and Mac.