SpeedOut Checks USB & External HDD Read/Write Speed
Do you want to know the exact rate at which your USB or external hard drive transfers the data? SpeedOut is a simple program that can be used to find the exact data transfer rate and also check which USB or external hard drive provides you better performance. It has a simple interface which shows the results in bar chart along with numerical test results.
The best part is that it doesn't require any formatting after the test and also it doesn't damage any data on the USB or external hard drive during the test.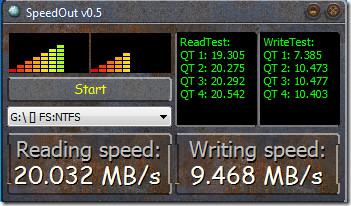 From the system menu (Alt + Space) the user can save the test results to the text file or copy them to the clipboard, it's nice if you want to show your friend what your USB drive can do.
Windows Vista and Windows 7 shows only the write speed of data being copied/moved, Speedout on the other hand performs four test each for read and write and then provide you the average result, so there is no need to manually check for read/write speed. It is a nice program providing you quick results to select a better USB or an external hard drive which fulfills your needs.
It is compatible with Windows XP, Windows Vista, and Windows 7 and testing  was done on Windows 7 x86 system.