SplitCam: Split Video Source Between Multiple Apps & Apply 3D Effects
Back in 2009, we reviewed SplitCam, an application that let you connect multiple IM applications such as ICQ, Yahoo Messenger, MSN Messenger, Skype, Camfrog, AOL, AIM, Pal Talk etc., to a single video capture source. Now, in about three or so years, it has been improved and updated in a lot of ways. It offers a number of new options and features, which were not available in the original version. Various filters and background effects have been added to it that can be applied in video chats with your friends, family and coworkers. You can use a variety of 3D funny objects, such Spiderman, monkey or pumpkin to replace your head or face, although it may sound rather towards the silly side. The webcam software allows you to do live streaming to popular streaming websites like Livestream, Ustream, Justin.tv etc. Other key features include support for HD 1080p and upwards resolutions, streaming from sources other than webcam, for example, video file, slide shows and even desktop to get help from your friends in case you're confused about something and much much more.
Note: It may be pointed out that the installer offers to install Babylon toolbar to your machine, as well as setting Babylon as the default homepage and search engine. This, however, can easily be averted by unchecking/declining it during the installation process.
One of the first things to notice is a completely revamped GUI. The application now has a black theme, and houses various different options to tinker. It supports up to six different languages. The application lets you record your video streams by hitting Rec on the bottom right. Furthermore, you can upload the recorded videos directly to your YouTube channel with the integrated option; however, first you will need to sign in from within the app. You may also select PiP (picture in picture) mode if you want.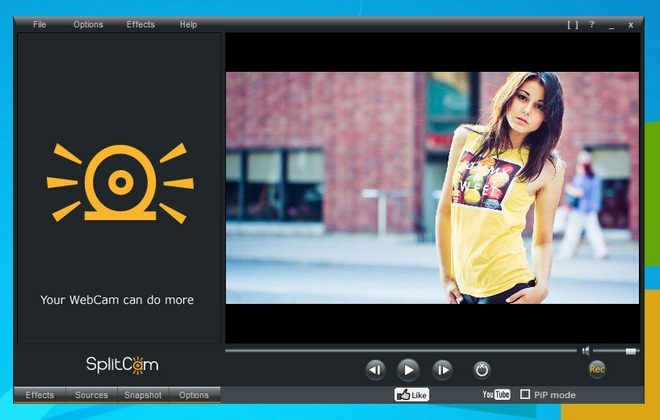 The coolest thing to talk about is the Effects menu, which contains a galore of fancy features that you can put into your video streams. The effects menu contain a number of Filters that you can apply such as flipping the video, deinterlacing, black & white, contour effects and many others. Backgrounds let you change the backdrops of your videos, and include both static and dynamic scenes. Other than that you can put Face items, Frames, Avatars, Objects, Text, Date & Time and other custom items to your to your videos or images. During the streaming sessions, you can capture an image by clicking Snapshot, where you can take the pictures during the video using different settings such as instantly, non-stop and in intervals.
Sources menu lets you select the streaming source that I mentioned earlier, for instance, webcam, video, desktop or even an image file. Clicking Options menu provides a few more settings to customize the application according to your preferences such as camera resolution and color calibration etc.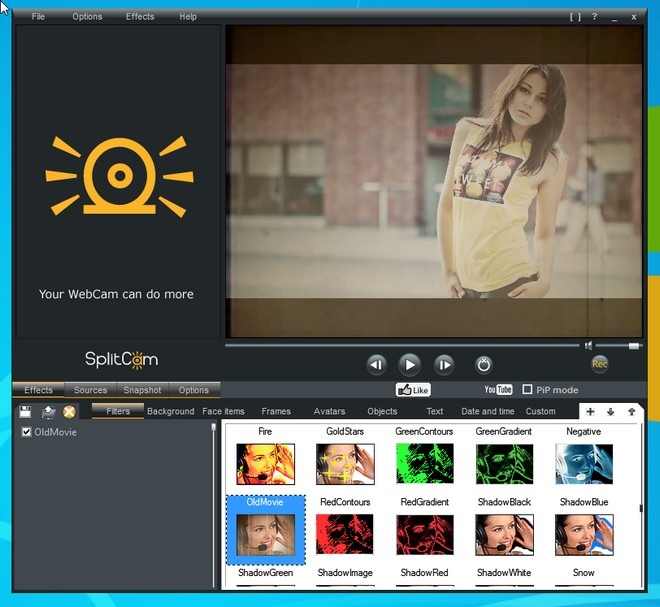 Overall, SplitCam is a convincing webcam application. It is not only free but also has evolved quite a lot since its inception. It works on Windows XP, Windows Vista, Windows 7 and Windows 8. Both 32-bit and 64-bit OS are supported.