SterJo Task Manager: View & Terminate Running Processes And TCP/UDP Connections
Microsoft keeps improving their Windows Task Manager utility with every new version of Windows OS, and those who got their hands on Windows 8 Consumer Preview built must have an idea about how great the new Task Manager looks and performs. However, If you were looking for a basic Windows task manager replacement utility that could also give you control over TCP/UDP connections, then you can give SterJo Task Manager a shot. It's a free task management utility that shows information regarding current Tasks, Processes, Services and Connections. The built-in Connection feature makes it different from the Windows native task manager utility, as it allows you to view and terminate TCP and UDP connections. With this application, you no longer have to open the Windows Resource Monitor to check the inbound and outbound network traffic as well as processes that attempt to open TCP/UDP ports to communicate with external sources. More details after the jump.
Please note that during installation, the setup program tries to download and install Babylon toolbar, as well as set Babylon Search as your browser's homepage. This however, can be easily avoided by clicking the Decline button.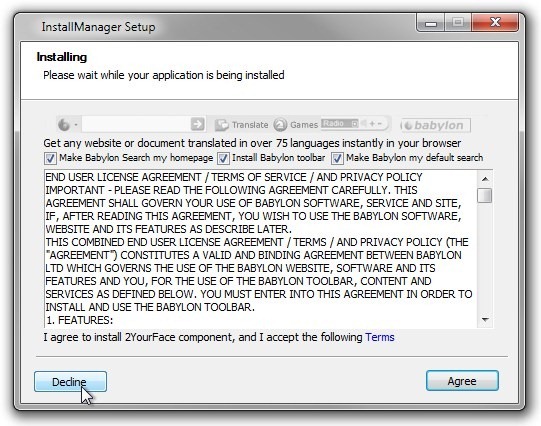 The application includes 4 tabs including Tasks, Processes, Services and Connections. There's also a toolbar to perform frequently used tasks such as Refesh, End Selected Task, Run new process etc. Just like Windows task manager's Applications tab, the Tasks tab lists down all currently opened folders and running applications, displaying Task name and icon, Status and Process ID.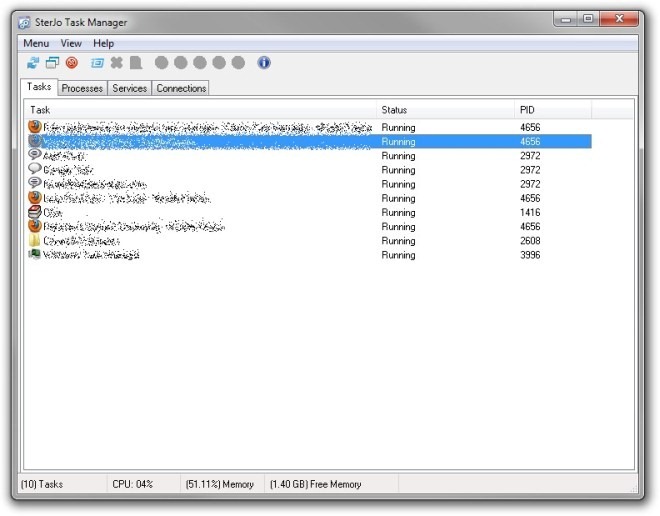 The Services tab shows more information than the Windows Task Manager, and lets you see Drivers Services from the menu bar. You can start or stop any selected service by using the navigation buttons on the toolbar, which also lets you Pause, Resume or Delete the selected service. You can extract information like service Name, State, Startup Type, Path, Service Type and so on.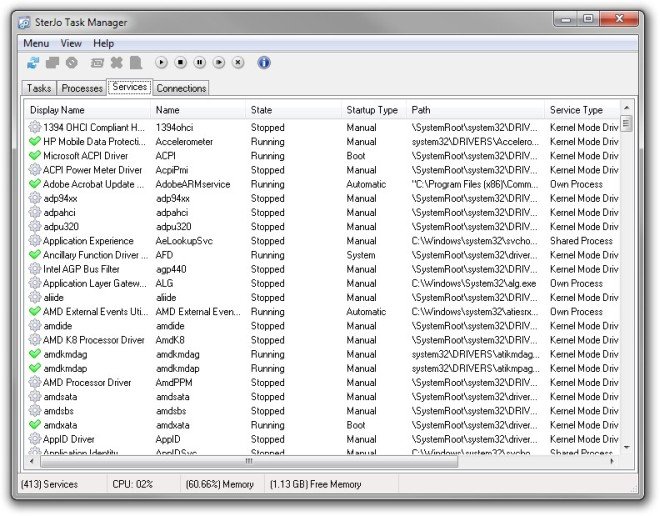 The mainstay feature of the application is its Connections tab, which as stated earlier, lists down all network connections and their related processes. You can view a Process name, Protocol (TCP/UDP), Local Address, Local Port, Remote Address, Remote Port, Status and Path.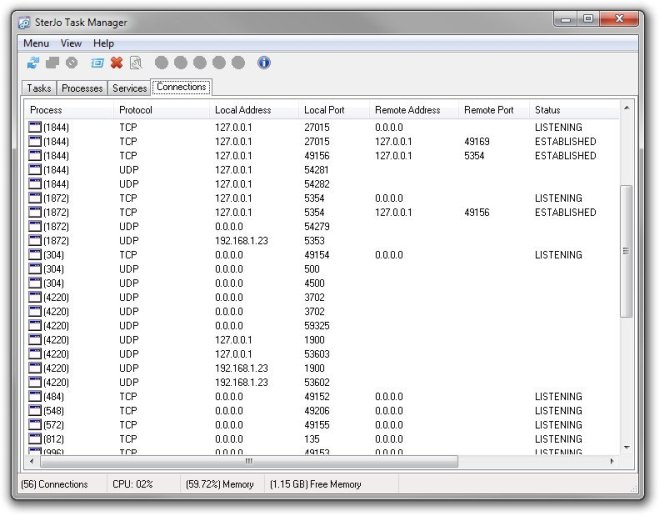 SterJo Task Manager works on Windows XP, Windows Vista, Windows 7 and Windows 8. Testing was carried out on Windows 7, 64-bit OS edition.
If you liked this application, click here to look through the other task management applications that we've covered so far.