How to switch apps in list view on Windows 10
Windows 10 has carried forward the same app switcher that Windows 7 and 8 had. The mechanism is the same and the display mode for running apps is also similar though, there are some changes made on account of the new Timeline feature. The current app switcher, which is activated with the Alt+Tab keyboard shortcut shows large preview windows of running apps. You can use a registry hack to replace the window previews with app icons. If you don't like either of those options, you can switch apps in list view with an app called Alt-Tab Terminator. It's a free app that gives you both a list and a window preview in the app switcher.
Switch apps in list view
Download and install Alt-Tab Terminator. It can take over both Alt+Tab and Win+Tab keyboard shortcuts though you can choose which shortcuts it takes over.
Once the app is running, use the Alt+Tab keyboard shortcut to bring up your new app switcher. You can hold down the Alt key and tap the Tab key to cycle through the various app windows that are open. Release the Alt key to switch to the selected app.
Alt-Tab Terminator gives you both a list of the apps and a preview window.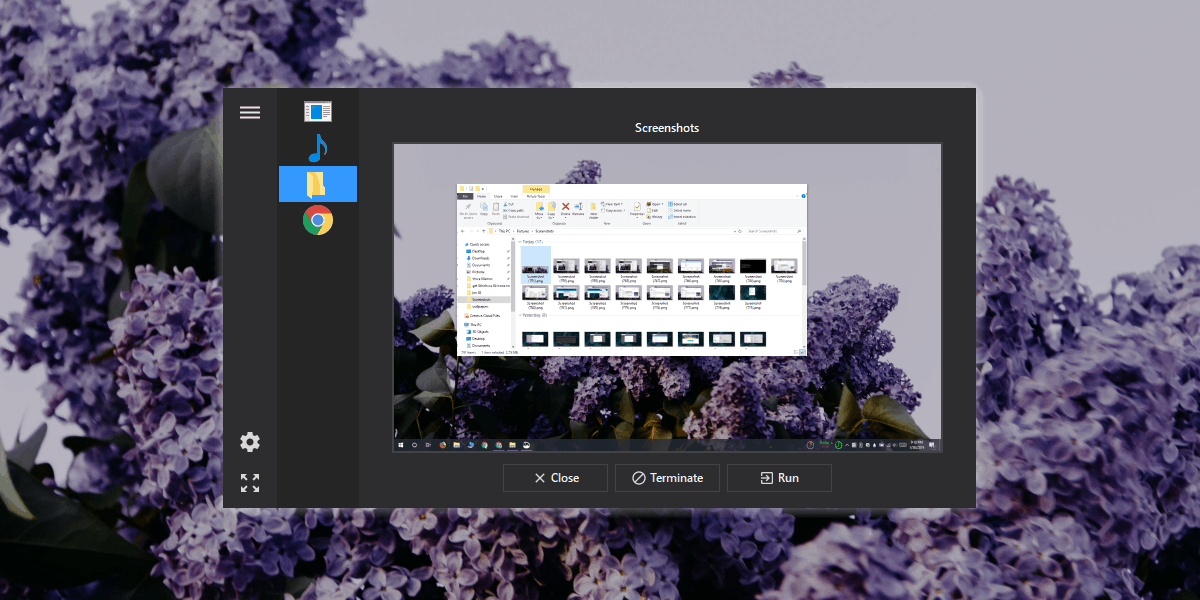 With respect to size, the app has three basic sizes; small (pictured above), medium, and large. It also has a full screen size. You can have the app display large icons or use smaller ones which are, frankly, a bit too small.
If you want the app to only capture the Alt+Tab shortcut, you can change it from the app's settings.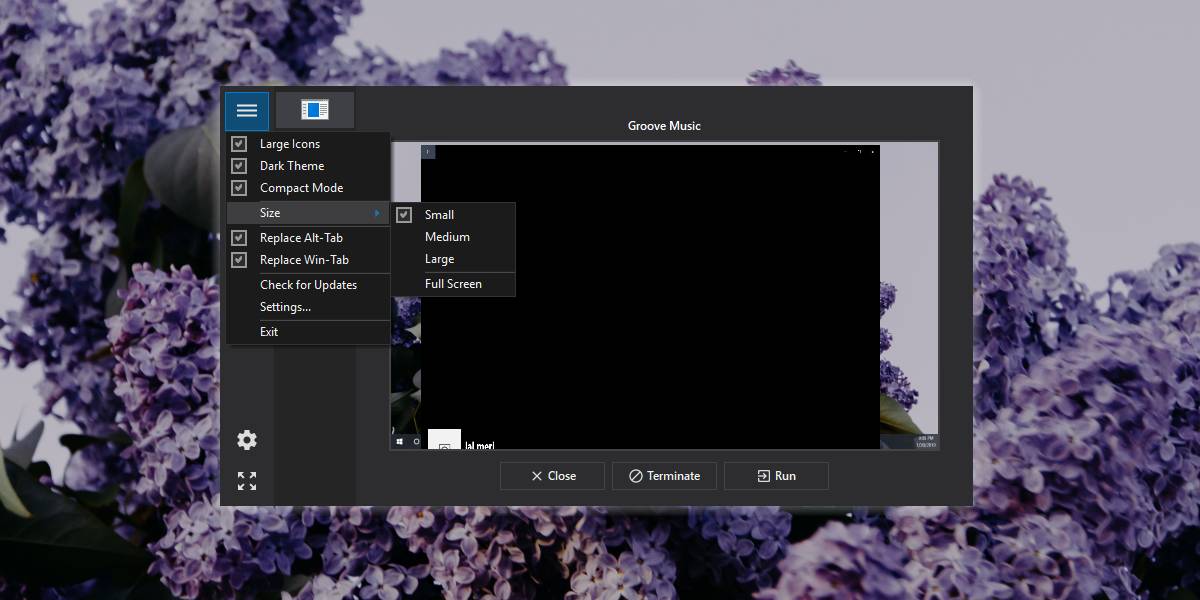 With app switchers, it isn't just about how the open apps are displayed and the mechanism used to switch to an app but also about how fast the app switcher is. Alt-Tab Terminator is as fast as the default app switcher on Windows 10 so you're not compromising on speed when you choose to use this app.
It has its shortcomings; it doesn't always display the app icon. This is noticeable if you're running a UWP app. In my case, the app didn't display Groove's icon though the window preview was accurate and it didn't stutter when I used it to switch to the app.
You can use Alt-Tab Terminator to close and quit apps which is a handy tool for unresponsive apps. And finally, there's the app's dark mode which is enabled by default. It's a decent dark mode that is still absent from the default app switcher on Windows 10.
Alt-Tab Terminator will run in the system tray and is light as far as resource consumption goes. Even for older, aging laptops, they app may be perfectly usable.