Tabster: Music Tablature Manager With Search, Store & View Options
Learning to play music is a difficult job, specially when you are doing it on your own. Instruments like the guitar, drums and keyboard require a lot of practice and demand dedication from the learner. If you are one of those people who are (or have been) lucky enough to attend a music school, you must know the importance of being able to read "Staves", but most self-taught music enthusiasts rely on tabs (tablatures) to learn how to play new songs. Ultimate-guitar is a hugely popular website specially among people learning to play guitar because of its massive collection of songs. However, with all the tablature versions each song has on the website, it is difficult to manage all your favorite tabs. Tabster is an application for Windows that takes care of this problem and provides you with a simple tab manager to search, store and retrieve stored tabs for easy viewing. Moreover, you can edit, as well as create new tab documents to save them to your computer or upload onto the internet. More on Tabster after the break.
The main interface of the application has Library, Search and Browser tabs at the top to handle the 3 functions performed by the application. By default, the Library tab is selected, where all the saved tabs are stored. Tabster has different sections for different category of tabs, such as Favorite Tabs, Guitar Tabs, Guitar Chords, Bass Tabs, Drum Tabs, etc. The toolbar at the right side has New Tab, local Search, Tab Details, Delete Tabs and internet Search buttons.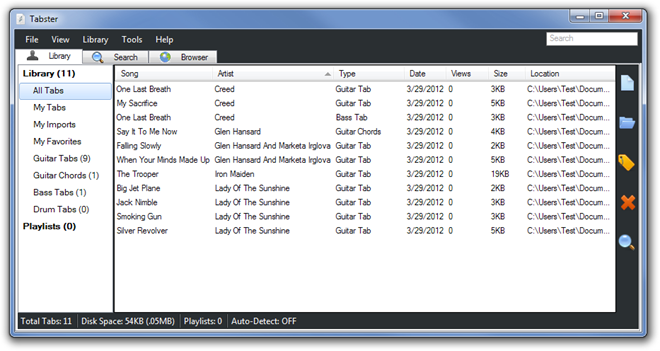 Switch to the Search tab for searching guitar, bass and drum tabs of songs. You can search according to Artist, Song and specify the type between Guitar Tab and Guitar Chord.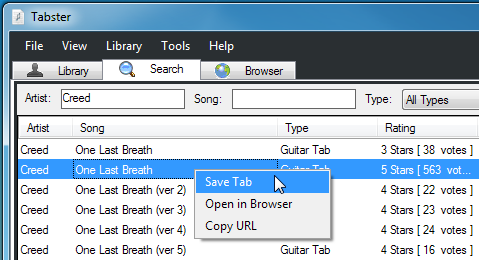 Tabster has a Browser (accessible from the browser tab at the top) built inside the application, as well as a viewer/editor that lets you view and edit tabs of multiple songs.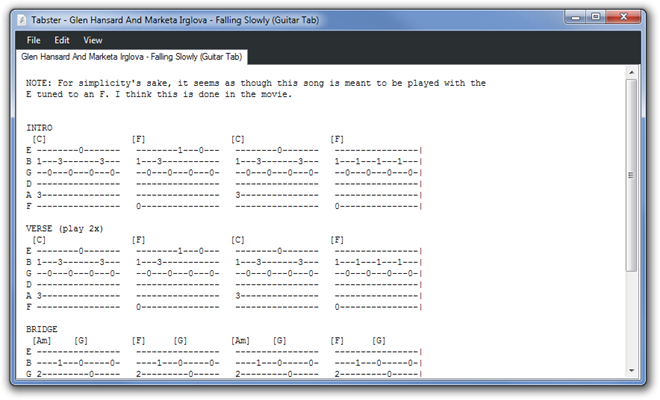 Tabster is a glitch free application that allows you to easily work with tablature files. You can easily search, download, store, view, edit, and even create new tablature files. It works on both 32-bit and 64-bit versions of Windows XP, Windows Vista, Windows 7 and Windows 8.