Live Capture: All-In-One Screenshot Tool With 12 Differet Modes
Screenshot capturing tools have become one of the fundamental applications on our computers. In almost all operating systems, at least one such utility is provided by default, like Windows 7's snipping tool, and then there are other famous third party programs to grab your favorite screens, such as Shotty, Greenshot, Kidsnapper, Grrrabit, etc. Live Capture is yet another new screenshot application, which is also (arguably) the most feature rich that I have found so far. Apart from the usual Full Screen, Active Area and Selected Area Capture options, the application will provide you several other choices, such as Window Control Capture, Fixed Area Capture, All in One Capture, Timing Capture, Freehand Capture, Program Menu Capture, Web Capture, and even repeat your last screenshot mode with Repeat Last Capture. As with most of the popular tools, you can also use hotkeys to grab your screenshots. The application doesn't have any integrated photo editor, but you can assign your primary photo editor, such as Photoshop or MS Paint, to directly copy the captured image into the program, so you can tinker it before saving. Live Capture will also let you upload the images directly to an FTP server by filling in the required details like server name, remote path, user name and password etc. More details after the jump.
The application comes with a Capture Bar that contains all types of screenshot options, so you can easily grab the kind of screen you want. The bar stays on top of every window you're currently working in, although you may adjust its transparency and color by left-clicking Live Capture at the top of the bar.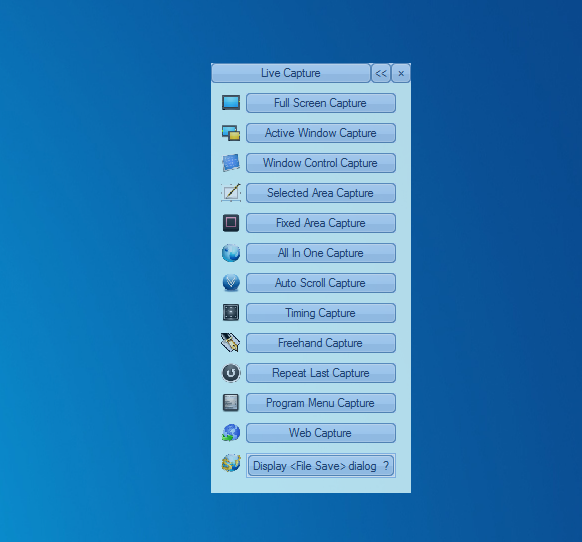 Using the Fixed Area Capture, I grabbed a random snippet of Addictivetips' homepage and it worked like a charm. As mentioned earlier, the captured image was opened in windows native Paint application (set as default when you install the application for the first time, though you can always make a switch using the configuration panel, which is also explained ahead). Another major feature I found was Window Control Capture, which is a great tool if you quickly need to capture any part of the desktop or an opened window.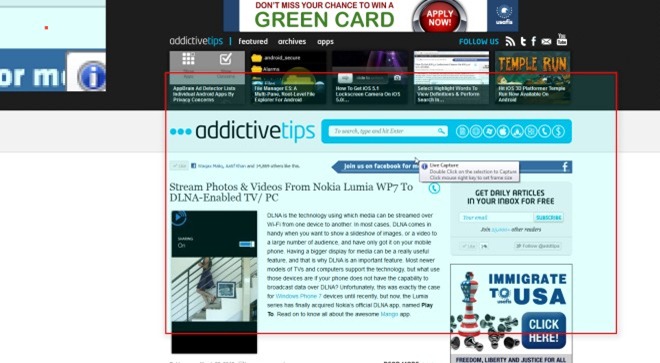 Aside from the screen capturing options on the Capture Bar, you can right click the notification icon to see several more options, like Magnifier, Color Picker, Color Palette, Ruler, Editor, Crosshair, Protractor, Kinephoto and Make Animate GIF file.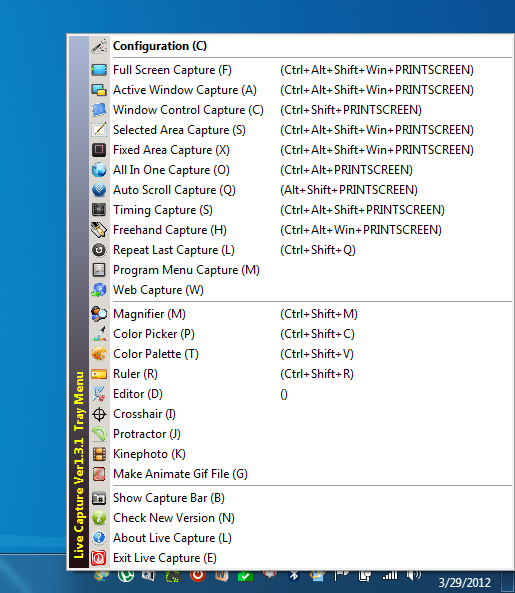 The configuration panel (mentioned earlier) contains several tabs so you can customize the application according to your preferences. You can adjust image format while all the popular file formats like PNG, GIF, JPG and BMP are supported. Capture Hotkey tab will let you assign different hotkeys to various capture modes, and comes with some default selections as well that you can modify to your leisure.
Remember the editor thing I talked about at the start of this post? Save File tab lets you choose your external photo editor. You can also adjust whether or not to automatically open the editor after screenshot capture, under the Capture tab.
Live Capture is definitely a quality software, which didn't disappoint at all. The lightweight tool can be added to your favorite programs if you need to capture different type of screenshots on daily basis, and might prove to be a worthy competitor for our reigning champions, Greenshot and Shotty.
The application works on Windows XP, Windows Vista, Windows 7, Windows 8, supporting both 32-bit and 64-bit OS architectures.